Croatian TV Says War Crimes Convict Dead After Taking Poison At UN Court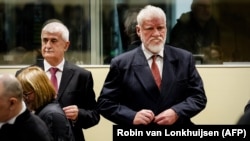 Judges suspended an appeals hearing after one of the six Bosnian Croat war crimes defendants took what he said was poison, shouting out and raising a bottle or vial to his lips in the UN court in The Hague.
Croatian state television later reported that Slobodan Praljak was dead. Dutch police declined to comment.
A guard at the International Criminal Tribunal for the Former Yugoslavia (ICTY) had said shortly after the hearing was halted that Praljak, 72, was alive and "receiving medical attention."
Praljak, a former commander of Bosnian Croat forces in Bosnia's 1992-95 war, appeared to take a drink moments after judges at the tribunal confirmed his 20-year sentence on appeal.
"Slobodan Praljak is not a war criminal. I reject the verdict with disdain," he shouted.
Presiding Judge Carmel Agius quickly halted the November 29 hearing.

Police, an ambulance, and a fire engine could be seen outside the building and emergency rescue workers went into the court, while a helicopter hovered above the scene.
Agius had overturned some of Praljak's convictions but left his sentence unchanged.
Praljak, who was sentenced to 20 years' imprisonment in 2013, was one of six former Bosnian Croat political and military leaders standing before the court.
PHOTO GALLERY: Mostar, Then And Now (click to view)
Praljak was specifically charged with ordering the destruction of Mostar's 16th-century bridge in November 1993, which judges in the first trial had ruled "caused disproportionate damage to the Muslim civilian population."
The blown-up Ottoman-era bridge became a symbol of Bosnia's devastation in the war. It was later rebuilt, but Mostar saw the worst of the Croat-Muslim clashes, with nearly 80 percent of the city's east destroyed in the fighting.
But in their November 29 ruling, the judges actually allowed part of Praljak's appeal, saying the bridge had been a legitimate military target during the conflict. They also had overturned some of his convictions, but refused to reduce his overall sentence.
Besides Praljak, the other five defendants included Bosnian Croat leader Jadranko Prlic, who appealed his 25-year term imposed by the court in The Hague, and four others, who are also appealing long prison sentences ranging from 10 to 20 years.

The ruling on some of the 22 counts for which the six were sentenced was still due to be read.
Before the hearing was halted, Prlic had also had his 25-year jail term upheld.
Prlic had been found guilty of being part of a criminal enterprise by the wartime Croatian government of late President Franjo Tudjman, to create an ethnically pure state.
Judges upheld that key finding, despite Croatian officials having denounced it and calling for it to be overturned.
In Zagreb, state television announced that following the events in The Hague, President Kolinda Grabar Kitarovic decided to cut short an official visit to Iceland, while the government called an emergency session.
Tudjman's son, Miroslav, described Praljak's gesture as a "consequence of his moral position not to accept the verdict that has nothing to do with justice or reality."

The appeals hearing comes a week after the judges sentenced former Bosnian Serb military commander Ratko Mladic to life in prison.
It marks the end of two decades of work by the court, set up in 1993 at the height of the Balkans conflicts to prosecute Europe's worst atrocities since World War II.
With reporting by RFE/RL's Balkan Service, AP, AFP, dpa, and Reuters