Spotlight On Iran
Trump's Tool Kit: U.S. Options For Pressuring Pakistan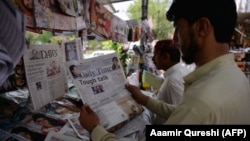 U.S. President Donald Trump has many tools at his disposal to turn up the pressure on Pakistan to shut down alleged Afghan Taliban sanctuaries and arrest extremist leaders on its soil, analysts say, as Washington looks to turn the tide in America's longest-ever war.
In unveiling his new Afghanistan strategy on August 21, Trump chastised Pakistan for harboring "agents of chaos" and providing safe havens to militant groups waging an insurgency against the U.S.-backed government in Kabul, saying Islamabad must promptly change tack or suffer the consequences.
Analysts say Trump's options range from cutting off billions in annual military aid to downgrading Pakistan's status as a major non-NATO ally in order to force Islamabad's hand if it does not does not get behind a renewed U.S. effort to help Kabul repel the Taliban and force the fundamentalist militant group to negotiate a political settlement.
How to get nuclear-armed Pakistan to crack down on militant sanctuaries on its soil has long been a point of contention. Former President Barack Obama tried and seemingly failed to persuade Pakistan to change course with billions of dollars in military aid and the sale of subsidized weapons. But analysts say Trump is likely to use more stick and less carrot in his own dealings with Islamabad.
"This would be an extremely bold move on the part of the United States but completely feasible if it was willing to deal with the consequences..."

-- Shamila Chaudhary, New America Foundation
Trump upped the ante further by seeking greater Indian engagement in Afghanistan, an overture that has set off alarm bells in Pakistan. The nuclear-armed archrivals have vied for influence in Kabul for years, with New Delhi backing civilian governments with millions in aid while Islamabad has attempted to establish friendly governments in Afghanistan through proxies like the Taliban and the mujahedin.
"The Trump administration appears to be determined to increase pressure on Pakistan to eliminate terrorist safe havens on its soil or bring the Taliban to the negotiation table," says Ahmad K. Majidyar, a South Asia expert.
Analysts expect Washington to first pursue an aggressive diplomatic effort to convince Pakistan to change its approach and will only resort to military and financial measures if Islamabad fails to deliver.
See all News Updates of the Day