UN: Syrian Government To Join Peace Talks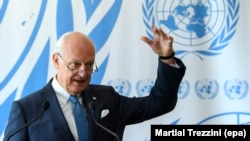 The Syrian government has confirmed its delegation will attend peace talks in Geneva this week after indicating it might skip the negotiations, the United Nations says.
The UN special envoy for Syria, Staffan de Mistura, received a message saying that the government delegation was "planning to arrive tomorrow," UN spokeswoman Alessandra Vellucci told a news briefing in Geneva on November 28.
"At least we know that they are coming," Vellucci said as meetings got under way without the government delegation.
De Mistura said the previous day that Damascus had not yet confirmed its participation in the eighth round of UN-sponsored talks aimed at ending Syria's more-than-six-year civil war.
De Mistura said the latest round would focus on getting to an "inclusive process" to draft and ratify a new constitution, steps he said were needed before the country can hold elections.
He also said he would "not accept any preconditions by any party" to the negotiations.
After arriving in Geneva on November 27, the head of the opposition delegation Nasr Hariri said that the group was aiming for the removal of Assad.
"Our goal in the negotiation will be the departure of Bashar al-Assad from the beginning of the transition," he said.
Hariri said that major powers, and Russia in particular, should put more pressure on Assad to engage in real negotiations on a political transition followed by a new constitution and free elections, along the lines of a UN road map to end the more-than-six-year war.
Assad's government "is using delaying tactics to obstruct progress towards a political solution at a time when the opposition comes with one unified delegation," Hariri said. "Russia...is the only entity capable of bringing the regime to the table of negotiations."
The pro-government newspaper Al-Watan earlier reported that the Damascus delegation would delay its arrival in Geneva because of the opposition's insistence Assad step down.
The opposition has accused the government of refusing to seriously engage.
More than 330,000 people have been killed in Syria and millions have been driven from their homes since the conflict began in March 2011 with a crackdown on antigovernment protests.
Russia supports Assad's government and provides air support for government forces. Iran also backs Assad, while the United States and Turkey support differing rebel groups.
Russian President Vladimir Putin repeated his call for a negotiated political settlement to end the conflict during a surprise visit by Assad in Russia's Black Sea resort city of Sochi on November 20.
Expressing thanks for Russia's role in the Syrian conflict, Assad said, "especially since we've attained victory over the terrorists, we want the political process to progress."
Talks sponsored by Russia, Iran, and Turkey are being held in the Kazakh capital, Astana, to deal with battlefield issues, such as cease-fires and the creation of "de-escalation zones."
The zones have led to reduced violence in many areas, but deadly air strikes and fighting have continued.
Russia, Iran, and Turkey have also proposed holding a "national congress" of government and opposing forces in the Russian city of Sochi, although no date has been set.
With reporting by Reuters, AFP, and AP