Spotlight On Iran
Great Terror: Russian Government's Silence Means Stalin's Victims Honored Only With A #Hashtag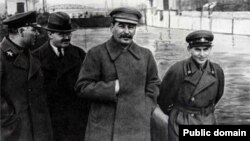 On July 30, the Russian government held lavish celebrations to mark the annual Navy Day holiday. But there were no official commemorations to mark the 80th anniversary of the July 30, 1937, Soviet government order that formally launched dictator Josef Stalin's Great Terror that left around 700,000 people dead and millions displaced, orphaned, or crippled.

The silence of the government and the Russian Orthodox Church was symptomatic of Russian society's ambiguous interpretation of the Great Terror and the other crimes committed by the Soviet government against itself and its own people. According to a recent public opinion poll by the All-Russia Center for the Study of Public Opinion (VTsIOM), 43 percent of Russians believe the purges were necessary "to maintain order in the country." At the same time, only 16 percent said that the verdicts of the Stalinist courts and tribunals were just. Forty-nine percent said Stalin's crimes cannot be justified by any arguments.
The terror kicked off 80 years ago when Soviet secret police head Nikolai Yezhov signed Order No. 00447, which stated:
"The state security organs stand before the task of mercilessly smashing this entire band of anti-Soviet elements and defending the laboring Soviet people from their counterrevolutionary plots and, finally, once and for all, ending their insidious work against the foundations of the Soviet state."
In February 1940, Yezhov himself became a victim of the terror when he was executed in a Moscow basement.
See all News Updates of the Day