Spotlight On Iran
As Wave Of Mysterious Bomb Threats Rattles Russia, Theories Fly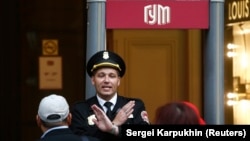 MOSCOW -- Maybe it's telephone terrorism. Maybe it's a secret test of the country's civil defense. Or maybe it's a new form of cyberwarfare.

For five days, Russia has been hit by hundreds of fake bomb threats phoned in to universities, schools, hospitals, airports, and railway stations nationwide. They've forced police to evacuate tens of thousands, sowing panic and disrupting business across the country.

The most recent calls came on September 14 to the upscale GUM shopping center on Red Square, opposite the Kremlin. The posh mall, home to stores like Gucci, Prada, and Hugo Boss, was evacuated, as were 20 schools and two cinemas in the capital alone. Over 100,000 were evacuated from various buildings around Moscow the day before.
Yet, no one knows where the calls are coming from.
Government and law enforcement have offered no authoritative explanations. The Kremlin -- having initially declined to comment -- on September 14 labeled it "telephone terrorism," saying only that the perpetrators were being sought.
Meanwhile, fed by an array of anonymous sources cited by pro-Kremlin media, theories and speculation have mushroomed, blaming Ukraine, Islamic State, and even radical Orthodox activists as possible perpetrators.
In comments to RFE/RL's Russian Service, experts in the military and security services speculated that the sheer scale could indicate it is the work of the Russian security services themselves -- either as part of an elaborate drill or some false-flag operation to legitimize a crackdown on Internet freedoms.
The calls are being made on IP telephones using encryption to scramble the caller's location, according to sources cited by the Russian news agency Interfax. The bomb tip-offs are made by a prerecorded voice, the Komsomolskaya Pravda tabloid reported.

See all News Updates of the Day