Spotlight On Iran
Poisonings Put Spotlight On Iran's Alcohol Problem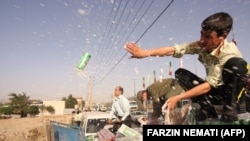 Mass alcohol poisoning and related deaths have exposed an alcohol problem in the Islamic republic, where a ban introduced following the 1979 revolution has failed to prevent Iranians from drinking.
Ninety-two people were poisoned, four fatally, after drinking in Sirjan in the southern province of Kerman, Iranian media reported on July 23.
Details relating to the poisonings, including whether they are related, were unclear, but Kerman Province judiciary official Yadollah Movahed told ISNA news agency that authorities are working to identify and arrest those behind the distribution of the alcohol.
He said that "48 people are hospitalized, three of them are in critical condition, and 30 of them are undergoing dialysis."
He added that, "due to the sensitivity of the case and the damage to society's psychological peace," the case investigation will be expedited.
See all News Updates of the Day