Spotlight On Iran
OPEC's Challenge - To Pump More Oil And Keep Deal In Place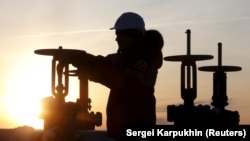 VIENNA, June 21 (Reuters) -
Explainer - For OPEC, over-compliance with its oil supply-cutting deal is a nice problem to have.
Once known for rampant cheating on agreed oil output targets, the Organization of the Petroleum Exporting Countries has been over-delivering on a pact in place since January 2017, cutting around one and a half times the promised amount.
The producer group meets on Friday to decide on output policy amid calls from major consumers such as the United States, India and China to cool down oil prices by producing more crude.
OPEC and non-members including Russia have been participating since Jan. 1 last year in a deal to cut output by 1.8 million bpd. The arrangement runs to the end of 2018. OPEC ministers meet their non-OPEC counterparts on Saturday.
In practice, the cut has approached 2.8 million bpd, delegates and ministers say, because of involuntary declines in countries including Venezuela and Angola, as well as voluntary reductions by Saudi Arabia.
Iran has so far been the main barrier to a new pact, objecting to U.S. calls for increased output.
But OPEC officials are increasingly confident a deal will be reached. Sources said a production rise of about 1 million bpd was emerging as a possible consensus for OPEC and its allies, adding that Iran could assent under certain conditions.
Since an increase of 1 million bpd would shrink the cut to about 1.8 million bpd from 2.8 million bpd, it could provide a compromise by keeping the existing deal while raising output.
A key challenge is how to share out the 1 million bpd, or whatever increase is eventually agreed.
Below are some of the sums being considered by OPEC and its allies:
* If all OPEC members produced as much as they were allowed under the current deal, OPEC output would in theory rise by about 740,000 bpd, based on Reuters estimates of the group's production in May.
* But in practice it would mean a boost of less than a 10th of that amount, effectively from Saudi Arabia. Riyadh is considered the only OPEC member pumping below-target that could add significantly more at short notice.
* The current ratio of agreed OPEC cuts versus agreed non-OPEC cuts is around 65 percent versus 35 percent.
* That means if a 1 million bpd output rise were agreed, OPEC would be allowed to increase output by around 650,000 bpd, of which Saudi Arabia could contribute over 200,000 bpd.
* However, questions remain over Venezuela, Libya and Angola, whose declines cannot be reversed at short notice.
* OPEC could distribute the increase unevenly to allow those that can produce more - Saudi Arabia, Kuwait and the United Arab Emirates - to fill in for those that cannot, although this could face resistance from countries reluctant to give up market share such as Iran.
* Iran has signalled that it would oppose any Saudi move to fill other producers' supply gaps. Iranian Oil Minister Bijan Zanganeh said on Wednesday that an OPEC output increase could total around 460,000 bpd.
* OPEC's secretariat is looking at new quotas under various scenarios, OPEC sources said.
* If the existing deal were retained and the Saudis felt a need to add more oil, Riyadh could increase output unilaterally, as it did after a meeting in June 2011 ended with no decision.
See all News Updates of the Day