Spotlight On Iran
Nigerian Crackdown On Shiite Group Sparks Fears Of Escalation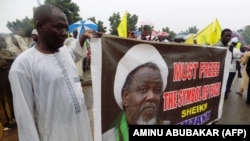 Abuja, Oct 30, 2018 (AFP) -
Nigerian police fired shots and tear gas at thousands of supporters of an imprisoned Shiite cleric in Abuja on Tuesday, just a day after three people were killed in similar clashes which sparked warnings to the government that a heavy-handed crackdown could radicalize the group.
At least six Islamic Movement of Nigeria (IMN) supporters have now been killed since Saturday during protests calling for the release of Ibrahim Zakzaky, who has been in custody since December 2015.
Nigerian police said 400 members of IMN were arrested, some of whom were carrying "dangerous weapons".
According to an AFP correspondent at the scene, the march of several thousand IMN members in central Abuja was peaceful, though some unarmed protesters threw stones at police, who then fired into the crowd and used tear gas to stop the procession.
At least six injured IMN members were taken away in cars while the area was patrolled by dozens of police.
"A lot of our people had been injured, so far we don't have any record of death," IMN spokesman Ibrahim Musa told AFP.
By Tuesday evening the head of Abuja police Bala Ciroma reported that "a total of 400 members of IMN... who participated in the violent protest of today are currently being detained" for investigation, after which they would be arraigned in court.
He added that "dangerous weapons were also recovered from them."
Nigeria's military said on Monday three IMN supporters were killed during another protest on the outskirts of Abuja.
The army said troops and police "repelled the attack" and that IMN "fired weapons" and threw stones and Molotov cocktails.
AFP photographs of the aftermath showed several civilians on the ground near police but it was unclear whether they were dead or injured.
On Saturday, three other IMN members were killed during protests in Abuja.
The army claimed the protesters attacked a military convoy and tried to steal weapons and ammunition -- an account the IMN "categorically" denies.
IMN spokesman Musa claimed 27 people have been killed since Saturday and that the death toll could be higher since "scores" of people were injured and troops took away others.
"We are working towards their release to us for burial," Musa said.
Human rights group Amnesty International on Monday said reports that troops fired live bullets at protesters were "very disturbing" and would be unlawful if they were unarmed.
The IMN has staged a series of demonstrations demanding the release of leader Zakzaky, who has been detained since bloody clashes broke out in the northern city of Zaria in 2015.
Then, the military was accused of killing more than 300 IMN supporters and burying them in mass graves.
Zakzaky has been at loggerheads with Nigeria's secular authorities for years because of his calls for an Iranian-style Islamic revolution. Northern Nigeria is majority Sunni Muslim.
The cleric, who is in his mid-sixties and lost his sight in one eye during the 2015 clashes, has been seen in public only twice since he was detained.
Nigeria's government has previously ignored a court order to release Zakzaky and his wife.
In April, at least 115 IMN supporters were arrested at protests in Abuja during which police used tear gas and water cannon.
IMN processions for the annual Ashura festival have frequently been flashpoints. In November 2016, at least 10 people were killed when police opened fire near the northern city of Kano.
Amaechi Nwokolo, a security analyst at the Roman Institute for International Studies in Abuja, said the security forces had "no right to use that maximum force" on unarmed protesters, warning that it might "motivate others to radicalise".
See all News Updates of the Day