Mattis Suggests Sticking With Iran Nuclear Deal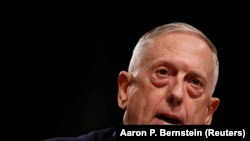 By RFE/RL

Pentagon chief James Mattis has said the United States should remain a party to the 2015 nuclear agreement with Iran unless it were proven that Tehran was not abiding by the deal or that it was not in the U.S. national interest to do so.

The U.S. Defense Secretary made the comments on October 3 during a testimony before the Senate Armed Services Committee, as President Donald Trump faces a mid-October deadline for deciding whether to certify that Iran is in compliance with the accord.

Asked by Senator Angus King (Independent-Main) whether he thinks it's in the national security interest of the United States to stay a part of the accord, Mattis replied, "Yes, Senator, I do."

"If we can confirm that Iran is living by the agreement, if we can determine that this is in our best interest, then clearly we should stay with it," he also said.

"I believe at this point in time, absent indications to the contrary, it is something that the president should consider staying with," the defense secretary added.

Mattis's expression of support for the agreement giving Iran relief from international sanctions in exchange for curbing its nuclear activities was in sharp contrast with Trump's assessments that the deal is an "embarrassment."

Other signatories to the accord are Russia, China, Britain, France, and Germany.

If the Trump administration does not recertify by October 16 that Iran is in compliance with the agreement, Congress, which is controlled by the president's fellow Republicans, would have 60 days to decide whether to reimpose sanctions on Tehran suspended under the accord.

The Trump administration has twice certified that Iran is complying with its obligations under the nuclear accord, but it also frequently charged that Tehran breaks the "spirit" of the deal, including by continuing to test-launch ballistic missiles and rockets capable of carrying nuclear warheads.

Washington has imposed several rounds of sanctions over the missile and rocket launches.

In testimony before the Senate Armed Services Committee last month, General Joseph Dunford, chairman of the Joint Chiefs of Staff, warned against pulling out of the Iran nuclear deal, saying doing so would complicate U.S. efforts to reach other agreements with other nations.

But he also warned Iran continued to destabilize countries and conflicts across the Middle East, and "supporting terrorist organizations in Syria, Iraq, and Yemen."