Spotlight On Iran
Islamic State Proving Resilient In Afghanistan In Face Of Targeted Campaign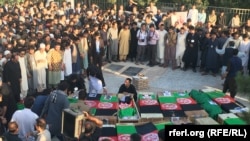 A relentless air-and-ground campaign against the Islamic State (IS) affiliate in Afghanistan does not appear to have radically diminished that militant group's ability to inflict deadly attacks or prevented it from expanding its geographical reach in the war-torn country, analysts asked to assess progress against such radicals' fighting capacity in Afghanistan told RFE/RL.

U.S. and Afghan forces have waged a relentless campaign to destroy Islamic State in Khorasan (ISIS-K) since that IS offshoot emerged in 2015, with Washington and Kabul claiming their campaign has killed hundreds of militants and commanders, including its leaders.

But speculation at the group's demise has proved premature as it has expanded to at least five provinces, from Nangarhar, Kunar, and Nuristan in the east to Jawzjan in the north and Ghor in the west. ISIS-K has also continued to carry out a series of high-profile attacks seemingly targeting members of the mainly Shi'ite Hazara community.
U.S. military officials have maintained the group is on the retreat, although reports this week claimed an exasperated U.S. President Donald Trump recently told his top officials that "we aren't winning...we are losing" the war in Afghanistan to militant groups like the Taliban, Al-Qaeda, and ISIS-K.
See all News Updates of the Day