Spotlight On Iran
Iranian Teachers Demand Fair Salaries, Independent Associations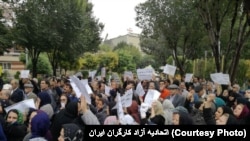 On the occasion of World Teacher's Day, hundreds of Iranian teachers gathered on October 5 in cities across the country demanding fair salaries and the right to form independent associations.
The demonstrators accused the government of President Hassan Rouhani of creating "serious obstacles" against teachers establishing independent organizations. They said teacher activists were threatened, summoned, and arrested by security forces for campaigning on behalf of their fellow coworkers.
Several teacher activists, including Esmaeil Abdi and Mahmoud Beheshti Langaroudi, have received long-term prison sentences in the past for such activities. In April, Abdi went on hunger strike for more than 30 days protesting his unfair sentence.
International human rights organizations and other NGOs have raised the issue of Abdi's imprisonment and long sentence with Iranian officials to no avail.
The next fiscal year budget allocated for education indicated that "teachers and students have to expect tougher days," protesting teachers said in their final resolution.
"A regular employee in other governmental institutions receives a salary three times higher than a teacher," said Javad Lal Mohammadi, an Iranian teacher who participated in the demonstration in Tehran in an interview with Radio Farda. "At some point, someone should solve this issue."
The teachers also demanded job security and insurance coverage for preschool teachers. They said all preschools in the country are privatized, and teachers at these institutions are at risk of losing their jobs easily. Teachers working at private schools face a similar situation.
The protesters criticized the privatization of schools and said the government's policies in this regard had led to the decrease in quality of education and an increase in the number of children deprived of education.
Article 30 of Iran's constitution stipulates that the government must provide free education to children through high school. However, in order to tackle its budget deficit, the Education Ministry in recent years has drastically increased the number of schools that require tuition, meaning that between 10 percent and 20 percent of Iranian students study at such schools. Paid schools are more likely to have better facilities and better resources.
See all News Updates of the Day