Spotlight On Iran
Oops! Iranian Billboard Honors War Dead With Images Of (Wait For It)...Archenemy Israel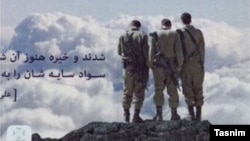 It was supposed to honor Iranians killed during the devastating Iran-Iraq war, but a billboard in the central Iranian city of Shiraz instead provoked mockery and was removed after it emerged that it featured not Iranian but Israeli soldiers.
The mistake prompted the head of the city council in Shiraz to order an investigation into how images of the soldiers of Israel -- Iran's long-declared enemy -- made it onto the billboard.
The billboard featured an altered image showing the backs of three male soldiers standing on a ridge looking out at the clouds. It was erected last week to mark the 38th anniversary of the start of the 1980-88 war that killed an estimated 500,000 Iranian and Iraqi soldiers, in addition to a similar number of civilians.
Soon after it was erected, locals noticed that the soldiers on the billboard were wearing Israel military uniforms, prompting a wave of criticism and mockery on social media.
It also emerged that a female soldier seen in the original was cut out of the altered image:
See all News Updates of the Day