Spotlight On Iran
INTERVIEW-Soccer-Iran Must Invest To Avoid World Cup Disappointment - Queiroz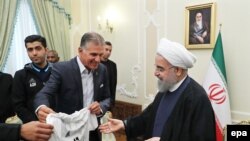 (Reuters) - Iran coach Carlos Queiroz has urged the country's authorities to commit more funding to the preparations for next year's World Cup finals or risk elimination in the group stages yet again.
Queiroz's side became the first team from Asia to book their ticket for Russia in June and next summer's tournament will be the fifth time Iran have appeared at the World Cup finals.
In 1978, 1998, 2006 and 2014, the three-times Asian champions failed to advance to the knockout phase of the competition and Queiroz fears a similar outcome next year if funding issues are not addressed immediately.
"The situation basically is the same as in the past," Queiroz told Reuters.
"We have the federation trying to do their best. But unfortunately in Iran, and I think all over the world, when you struggle with financial support it's always very difficult to implement a program.
"We qualified three months ago and at this moment there is no reason for us not to have a clear plan and a consistent budget in order to make decisions.
"If you copy the preparations of the last four World Cups, you don't go anywhere. It's a simple conclusion," he added.
Queiroz's comments echo a recent statement issued by seven Iran players on Instagram, in which they called on the authorities to emulate South Korea in mobilizing the country "from top to bottom" for the World Cup campaign.
The Portuguese coach presented his preparation plans to the Iran's football federation soon after they qualified but only two friendlies have been arranged so far.
Iran will play Togo on Sept 29 before taking on World Cup hosts Russia six days later.
Queiroz believes it is crucial that his team plays more matches against top quality opposition ahead of the finals, something that will only happen if the purse-strings are loosened.
"Based on my personal connections I was able to bring this friendly game against Russia," said Queiroz.
"Russia are the host nation and have accepted to play against Iran and this is huge in terms of international impact and reputation, but we cannot rely on my personal contacts and relationships.
"If you want to play good friendly games, money talks in football. You cannot ignore this situation."
Queiroz has stressed the Iranians need to take a more professional approach to their preparations or risk more disappointment on the game's biggest stage and a widening of the gap with the top footballing nations.
"My short term target is to be sure we have an outstanding, unique and challenging World Cup preparation and I will try my best to be different," said Queiroz.
"How many World Cups have Iran participated in? Four. This is the fifth World Cup. What did the four World Cups teach us?
"If you want to be in the second stage you must be different. Different in your preparation, ambitious, creative, use your imagination to see how you can in 10 months make this team improve.
"In order to be different I need to put all of my energy into this first goal.
"How can we convince the federation and the people who have the responsibility to support us that we must be different? We cannot be like Portugal because they started 45 years ago.
"We cannot be like Germany, they started 55 years ago, France 55 years ago. How can we in 10 months reduce this gap? That's my first job."
See all News Updates of the Day