Iran's Chief Justice Goes After Whistleblowing MP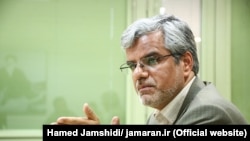 Once it was just a rumor published by an Iranian source that professional journalists had a problem believing: Every year, millions of dollars of the Judiciary's income poured into the private accounts of judiciary chief Ayatollah Sadegh Larijani.
However, it became top news last November when an MP, Mahmoud Sadeghi, spoke of it in a public session of the Iranian Parliament and requested the judiciary come clean on the allegations.
Despite parliamentary immunity, dozens of security forces gathered in front of Sadeghi's house a few days later to arrest him. But the house Speaker Ali Larijani and his deputy, Ali Motahari, intervened, and the whistleblower Sadeghi was spared.
For his part, Sadegh Larijani, who has been appointed by the supreme leader and loyal to him, never provided a convincing explanation. Without providing any evidence, he just called the allegations lies spread by his opponents with the goal to harm his institution.
It is worth noting, that the Iranian Judiciary, much like the military, is controlled by the Supreme Leader, ayatollah Ali Khamenei. Larijani is not just fully loyal to Khamenei but he condones and assists almost all anti-media and anti-opposition measures.
But MP Sadeghi did not bow to intimidation. This March, he again attacked Larijani's empire. Quoting a report by the National Organization of Investigations, which oversees the work of public entities, Sadeghi announced that in violation of the law, the judiciary had paid more than $75 million in extra salaries and bonuses to its employees.
At the time of this revelation, the country was on the verge of the presidential election, and one of the major criticism of conservative rivals of incumbent President Hassan Rouhani was the so-called astronomic salaries some of the managers of public companies, such as banks, had collected.
The issue was poised to become a symbol of corruption for Rouhani's government, but Sadeghi's revelations gave Rouhani and his supporters a strong case against his main rival, Ebrahim Raeisi, a former high-ranking official of the judiciary who tried to capitalize on anti-Rouhani allegations.
More than three months after Sadeghi's speech in parliament, the Iran Newspaper reported on July 24 that a court had found it guilty of "spreading lies with the purpose of incitement" because it had published the speech. The newspaper argued in court that it had taken the speech from parliament's official news website, but the court would not accept this defense.
Shortly after, MP Sadeghi tweeted that he had also been indicted by Tehran's prosecutor for the speech.
This was not the first time MPs have been prosecuted for doing their job, Ehsan Mehrabi, an Iranian journalist residing in Germany, told Radio Farda.
"The Iranian judiciary does not respect the law regarding the immunity of members of the parliament and is summoning them all the time. Newspapers have been punished or banned for publishing their speeches," he said.
Sometimes judicial officials even contact newspapers in advance and warn them not to publish certain speeches by MPs, he added.
This time, Sadeghi was summoned to the "delegation for overseeing MPs performance" and not just a regular court.
"The fact that they did not try to arrest me at night was a step forward," Sadeghi wrote on Twitter.