Spotlight On Iran
Shah Anniversary Reflects Iranians' Current Dissatisfaction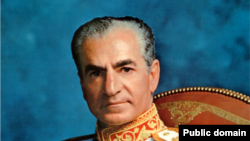 July 26 marked the 37th anniversary of the death of Iran's last king, Mohammad Reza Shah. To mark the occasion, Farah Pahlavi, the country's last queen, issued a statement saying the Shah loved Iran and had nothing on his mind except serving his country.
It was his dream to deliver a progressive country with a sustainable economic foundation and a humane and democratic social system along with individual freedoms, social justice, and economic democracy for future generations, Queen Farah added in her message.
While he has still many critics who see the Shah as a dictator and traitor, the number of Iranians who agree with the queen's statement has been on the rise.
Today, many Iranians refer to him as the "blessed" king and believe that everything -- from economy and politics to culture and society -- was better in his time. In 1979, the Shah was ousted following a revolution led by Ayatollah Ruhollah Khomeini and supported by millions of Iranians.
Khomeini accused the Shah of being a corrupt dictator and a puppet of the United States and Israel and promised to create a free and prosperous country independent of the West and the East. However, the next four decades looked completely different: a lack of political and social freedoms, military and political conflicts with other countries, and international isolation and sanctions were the results of policies by the new rulers of Iran. Many Iranians thought that, for these reasons, the revolution had been a mistake.
Iranians no longer saw the world as black and white and no longer believed the Shah was a traitor, said Majid Tafreshi, a historian based in London, in an interview with Radio Farda.
The change in the perception of many Iranians was also visible during last year's celebration of King Cyrus the Great, the founder of the Achaemenid Empire at his tomb in southern Iran. During the ceremony, dozens of participants -- mostly young people who had not experienced the Shah's era personally -- cherished the Pahlavi dynasty and unleashed pro-monarchy slogans.
"People say God bless Mohammad Reza Shah. That means they appreciate him," said Queen Farah. Once, she had even met an Iranian ambassador on a flight who approached her and showed her great respect, she told Radio Farda.
Mohammad Reza Shah owes his new popularity to the comparison between today's Iran and the Iran of the past, said Houshang Nahavandi, who served as science minister under the Shah. He could never reach that level of popularity even if he had spent billions of dollars, Nahavndi added.
But not everybody agrees with this assessment.
"In the past 15 years of his reign, the Shah treated his own people wrongly and made obvious mistakes in this regard," Farrokh Negahdar, a former leader of a communist party operating before the 1979 revolution, told Radio Farda.
Despite his achievements, the revolution against the Shah happened for genuine reasons, said Mehdi Fatapour, one of Negahdar's former colleagues. Suppression, dictatorship, and heterogeneity between the ruling elite and the Iranian society were real factors that contributed to the fall of Mohammad Reza Shah.
Tafreshi warns against misinterpreting the sentiments among Iranians.
"People say that during the Shah's time bread was cheaper, foreign currency was cheaper, food items were cheaper. Therefore they say, 'God bless him.' This is a type of protest against the existing situation. It doesn't mean they have become Shah admirers," he said.
But there is a popular perception that the Shah and his heir, Prince Reza Pahlavi have gained a significant measure of popularity in Iran, forty years after a sweeping revolution.
See all News Updates of the Day