Spotlight On Iran
Interview: Its 'Aura' Dented By Lost Foothold, Islamic State Still Poses Threat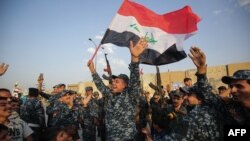 In Iraq, government forces backed by U.S. coalition air strikes, Kurdish militias, and other units have declared Mosul liberated from three years of occupation by Islamic State (IS, or ISIS) militants. In Syria, U.S.-backed Syrian Arab and Kurdish forces, supported by coalition aircraft, are on the verge of entering the IS stronghold of Raqqa, which the group once declared the capital of its self-styled "caliphate." Some three years after its fighters stunned the world by seizing vast swaths of territory in Syria and Iraq, IS is on the run. But experts warn that the radical Sunni group is decidedly not defeated, irrespective of whether the two cities are liberated. Both Syria and Iraq remain unstable and plagued by corruption, sectarian tensions, sky-high youth unemployment, and dismal economic prospects.
In an interview with RFE/RL, Joshua Landis, a professor of Middle Eastern studies at the University of Oklahoma and author of the widely read blog Syria Comment, http://www.joshualandis.com/blog/ talks about how the loss of Raqqa and Mosul might transform IS. But Landis says it would be folly to assume this is the end of the militant group.
RFE/RL: When Islamic State fighters swept through the region, much was made of their self-declared caliphate and their battlefield victories; and now that all seems to be evaporating in fairly short order. Perhaps in retrospect, the seizure of that territory wasn't as essential or significant to the group as initially thought?
Joshua Landis: The seizure of the caliphate was crucial to the aura that surrounded the Islamic State. It differentiated it from Al-Qaeda and from hundreds of other militias that had popped up in Syria and indeed in Iraq. It really put the Islamic State on the map, so to speak.
And it really produced tons of enthusiasm throughout the Islamic world, because it [meant], many people believed, that Islamic State was born again. If you take that state away, and ISIS becomes -- perhaps not more lethal, but it becomes another Al-Qaeda -- another group that is vying for some relevancy out there, to become the spearhead of a new Islamic order. But without a "state," it will be much diminished.
RFE/RL: So does the loss of Raqqa and Mosul, and loss of such territorial gains, mean that Islamic State is finished?
See all News Updates of the Day