Spotlight On Iran
Five Takeaways From Trump's New Afghan Strategy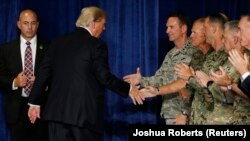 President Donald Trump laid out a plan on August 21 for waging what has become the longest war in U.S. history in an eagerly awaited address on U.S. "strategy in Afghanistan and South Asia."
The U.S. leader vowed to "win" the 16-year-old Afghan conflict, but he imposed no timeline on the commitment, saying "a core pillar of our new strategy is a shift from a time-based approach to one based on conditions."
"From now on, victory will have a clear definition: attacking our enemies, obliterating [militant Islamist group Islamic State, or] ISIS, crushing Al-Qaeda, preventing the Taliban from taking over Afghanistan, and stopping mass terror attacks against America before they emerge," Trump said.
He did not offer "talk about numbers of troops or our plans for further military activities." He also chided Pakistan for allegedly providing "safe havens for terrorist organizations, the Taliban, and other groups that pose a threat to the region and beyond," pledging to "change the approach and how to deal with" Islamabad.
Here are five key takeaways from Trump's speech at the Fort Myer military base near Washington:
See all News Updates of the Day