At least 83 people have died after an overloaded ferry sank in the Tigris River in northern Iraq, local officials say.

The tragedy took place near the city of Mosul on March 21 during celebrations marking Norouz, the pre-Islamic Persian new year.

Colonel Hussam Khalil, head of civil defense in Nineveh Province, said that many of the dead were women and children.

He added that search operations were still under way on the Tigris River.
Reports said the boat was packed with men, women, and children heading toward a tourist area as part of Norouz celebrations.

Interior Ministry spokesman Major General Saad Maan said that 55 people had been rescued.
"The boat sank because there were too many passengers on board -- more than 100," an unidentified security official based in Mosul was quoted as saying.
Iraqi Prime Minister Adel Abdel Mahdi decreed three days of national mourning as he visited the site of the accident.
He also ordered an "immediate" investigation into the accident, his office said.
In 2017, Iraqi forces recaptured Mosul from the extremist group Islamic State following a devastating campaign.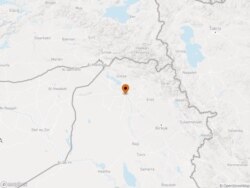 Based on reporting by AFP, AP, dpa, and the BBC