Spotlight On Iran
'Christian State': Meet The Hard-Core Russian Religious Activists Making Cinema Owners Tremble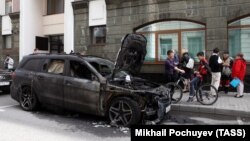 In January, Andrei Alekseyev received a letter from religious activists warning that movie theaters like his "could burn" if they showed a forthcoming film about a romantic liaison of Russian Tsar Nicholas II, who has been canonized by the Russian Orthodox Church.
The letter, signed by a group calling itself Christian State-Holy Rus, claimed to have members across Russia prepared to sacrifice their lives for its "true Orthodox Christian path" and said that showing the film, titled Matilda, could lead to bloodshed and "civil war."
The controversy over the film, which tells of a romance between the unmarried crown prince and ballet dancer Matilda Kshesinskaya, mounted in the ensuing months, thanks in part to denunciations of the project by a controversial federal lawmaker.
But the warnings of violence in the letter, which other Russian cinema owners also received, now appear ominously prescient.
Over the past two weeks, unidentified assailants tossed Molotov cocktails into the St. Petersburg studio of Matilda director Aleksei Uchitel and set fire to two cars near his lawyer's Moscow office, leaving behind leaflets reading, "To Burn for Matilda."
Authorities also said that a man who opposed the film, set for nationwide screenings on October 26, set fire to a car at the entrance of a cinema in the city of Yekaterinburg on September 4, and that the small blaze spread to the theater's entrance.
Russia's largest cinema chain on September 12 announced it would not show Matilda, citing safety concerns for audiences.
Alekseyev, founder of the Kinoklub Neft movie theater in the city of Yaroslavl, said the Christian State letter "set off a wave of apprehension around Matilda" among cinema owners.
"Then these so-called activists moved from words to actions," he told RFE/RL.
See all News Updates of the Day