Spotlight On Iran
Taliban Targets Medical Clinics In New Afghan Insurgency Strategy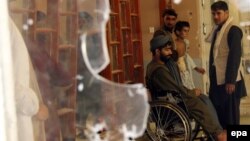 TARIN KOWT, Afghanistan -- When Sultan Mohammad's wife went into labor in Uruzgan Province last week, the medical clinic in Deh Rawood was not an option -- it had been shut down along with other local clinics by Taliban fighters who control most of the territory outside the provincial capital, Tarin Kowt.

Hoping for help from the southern province's main hospital, the desperate couple set off on an arduous overland journey to the capital. They traveled through the night on jarring dirt roads, across mountains, and through valleys as the pregnant woman's labor pains intensified.

But upon reaching the capital they realized that even in the government stronghold -- and just a few hundred meters from Uruzgan Governor Mohammad Nazir Kharoti's office -- Taliban threats had forced the closure of the Tarin Kowt hospital.

Hospital director Aminullah Tokhi told RFE/RL that all his staff left the facility on September 22 after repeated Taliban threats to "blacklist" and attack those who continued working there.

"When I took my wife to the hospital, they told me it was closed and the doctors were not working," Sultan Mohammad said. "Finally, she gave birth on the side of the road outside the hospital. There were no doctors to help us."
It's a situation that has been repeated across Uruzgan Province during the past two weeks as all medical facilities built with international reconstruction aid in the past 15 years became targets in a new battle tactic by the Taliban.

"The armed militants are making demands," said Health Ministry spokesman Wahidullah Majroh. "They want health facilities [to be built] in areas they control where there aren't any clinics or hospitals yet."

The Taliban also are demanding better equipment and staff at existing clinics as well as the authority to vet surgeons and other medical staff who treat wounded Taliban fighters, Majroh said.
Written by RFE/RL correspondent Ron Synovitz in Prague, with reporting by RFE/RL's Radio Free Afghanistan correspondent Sharifullah Sharfat in Tarin Kowt
See all News Updates of the Day