Insurgents Kill 10 Security Forces In Attack At Salma Dam In Afghanistan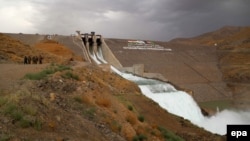 Afghan officials said 10 security forces were killed by Taliban militants in an attack on a checkpoint at the Salma Dam in the western part of the country.
Four other police were wounded and four militants were also killed in the attack in Herat Province, according to Farhad Jailani, a spokesman for Herat's governor.
The hydroelectric dam project, which underwent an extensive $300 million refurbishment that was completed in 2016, has been a target of Taliban attacks in the past and is heavily guarded.
The dam is more than 100 meters high and 540 meters wide and is designed to generate 42 megawatts of power and help irrigate 75,000 hectares of land for Herat Province.