Spotlight On Iran
Dari Or Farsi? Afghanistan's Long-Simmering Language Dispute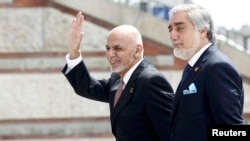 What to call the Persian language in Afghanistan? It's a question Afghans have grappled with and sparred over for decades.
The long-simmering dispute was reignited after the BBC changed the name of one of its local-language Facebook pages to BBC Dari, prompting a backlash from many Afghan Persian speakers who despise the word officially used to describe their language.
Many Persian speakers in Afghanistan prefer and use the name Farsi, the official language in Iran. They say the term Dari has been forced on them by the dominant Pashtun ethnic group as an attempt to distance Afghans from their cultural, linguistic, and historical ties to the Persian-speaking world, which includes Iran and Tajikistan.
Language has long been a sore point in Afghanistan, where it has exposed unresolved tensions among the country's ethnic and linguistic groups.
Same Language
"Dari is not the Afghan dialect of Farsi," says Partaw Naderi, a prominent Afghan poet and minority-rights activist. "Dari is the name of a language that is also known as Farsi."
Naderi says historical documents prove that the word Dari, along with Parsi, dates as far back as the sixth century, when it was used to describe the Persian language. After the language adopted the Arabic script centuries later, it fell out of use and was replaced by the term Farsi.
Naderi says he prefers to use the word "Farsi-Dari" to describe the Persian language, calling it a solution to the current standoff. Any change would require a constitutional amendment.
Naderi says that while the Persian spoken in Afghanistan and neighboring Iran have distinct accents and variations in vocabulary and usage, the language is the same. There are dozens of regional variations of Persian inside Iran and Afghanistan, Naderi says.
Dari is the lingua franca in Afghanistan, where it is the native tongue of ethnic Tajiks, Hazaras, and Aimaqs as well as being spoken by Pashtuns in and around the capital, Kabul. Many educated Afghans are bilingual, speaking both Dari and Pashto, the country's other official language.
See all News Updates of the Day