Spotlight On Iran
Iranian Women Protest Exclusion From Stadiums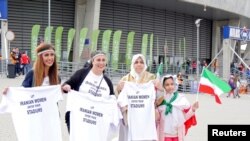 Iranian women protested the exclusion of women from volleyball matches in front of the Atlas Arena in Lodz, Poland yesterday. Poland is hosting the FIVB Volleyball World League. The protesters lead by activist Darya Safai handed out shirts saying "Let Iranian women enter their stadiums."
A longtime ban prohibiting women from attending soccer matches in Iran was extended to volleyball in 2012. Safai often attends matches where Iranian athletes are playing and protests the Islamic Republic laws prohibiting women from attending sports competitions where men are also present.
She was questioned by security officials at the 2016 Rio Olympics. Her banners were considered as a political statement by Olympic Committee rules.
Ramin Mehmanparast, Iranian ambassador to Poland and Lithuania confronted the women who were protesting.
Safai later got into the stadium and was removed when she tried to raise her banner. She wrote in her Facebook post "Today, we were also at the stadium. Our sportswomen were battling the Polish team and we were battling the misogynist laws of the Islamic Republic and with the world federation that still tries to censor us. Again, they took me out by force and confiscated my banner. But I returned and took out another banner from my bag. Probably, because of the presence of journalists and and the live broadcast of the match, they did not dare to confront me.
I kept my banner raised till the end of the match; "Let Iranian women go to stadiums". The match was being broadcast live in Iran.."
​Iranian women are currently banned from entering stadiums to watch male sporting events.The controversy highlights the power struggle in Iran between the government of self-proclaimed moderate President Hassan Rohani, who favors fewer social restrictions, and powerful hard-liners who oppose any kind of relaxation of strict social and political rules in the Islamic republic.
Hard-liners have argued that women's presence at male sporting events is inappropriate because of the athletes' uniforms and the crude language common in the stadiums.
See all News Updates of the Day