Spotlight On Iran
What We Know About Iran's Fresh Rash Of Street Protests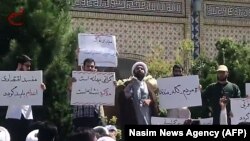 Sporadic street clashes and other protests have hit major cities in Iran since late July as Iranians express anger over economic woes that include rising prices and a sustained fall in the value of Iran's national currency.
The extent and seriousness of protests in Iran can be difficult to gauge, with tight controls on newsgathering and the publication of information regarded as subversive or even critical of the religious establishment that has run the country since the 1979 revolution.
But media in Iran have reported that at least one protester was killed in the city of Karaj, about 50 kilometers west of Tehran, allegedly when someone fired a gun from a passing car.
Meanwhile images and other reports continue to emerge, and Iranian concerns were likely to be heightened as the rial continued to languish against foreign currencies and with news that the United States would reimpose significant sanctions on Iran following President Donald Trump's abandonment earlier this year of the nuclear deal from 2015 that eased international sanctions in exchange for controls on Tehran's nuclear activities.
See all News Updates of the Day