Spotlight On Iran
Video: Remarks Before The Senate Sanctions Vote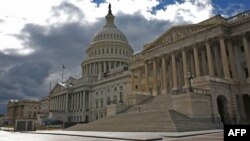 The U.S Senate voted on Thursday for legislation that will impose new sanctions on Russia and Iran. The upper chamber of Congress passed the measure 98-2.
By tying Iran and Russia together, Congress has made it more difficult for President Trump to oppose the action.
The Russia amendment was part of a larger measure that targets Iran for sanctions over its ballistic missile program, human right violations, and other issues.
The president, who has been highly critical of Iran, would have to reject the tougher sanctions against Tehran if it rejected other parts of the legislation.
In the House, the Republican speaker, Paul Ryan, has signaled backing for the measures, although his party's support for the measure may not be as strong as in the Senate.
See all News Updates of the Day