Spotlight On Iran
'Parity Is Parity': U.S. Ambassador Defends Move Against Russian Diplomatic Facilities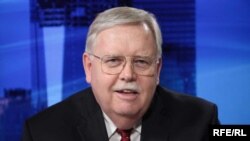 The outgoing U.S. ambassador to Russia has defended Washington's decision to order Moscow out of diplomatic facilities in the United States amid a mounting standoff straining already frayed bilateral ties.
Ambassador John Tefft's comments in a joint interview with RFE/RL and VOA on September 6 came a day after Russian President Vladimir Putin denounced what he called "boorish and unprecedented" actions against the Russian Consulate in San Francisco and trade representations in Washington and New York.
Russia has called the takeovers an "openly hostile act" and accused U.S. authorities of threatening to "break down the entrance door" of the Russian Consulate in San Francisco after Washington set a September 2 deadline for the premises to be clear.
Tefft said in the interview that Russian diplomatic personnel accompanied U.S. officials during the inspections of the San Francisco facility, which he said "were carried out to protect the facilities and to confirm that the Russian government had vacated the premises."
"Nobody broke down doors. Nobody put undue pressure on people. It was all done very, very carefully," he said.
He added that the U.S. takeover of the building complied with the Vienna Convention on Diplomatic Relations, which Russia has accused Washington of violating.
The U.S. order to clear the properties came after Moscow ordered the United States to reduce its personnel at diplomatic facilities in Russia to 455, which Putin said meant cutting 755 staff members.
That move came in response to fresh U.S. sanctions targeting Russia over its actions in Ukraine.
Washington has imposed several rounds of sanctions against Russia over its 2014 annexation of Ukraine's Crimean Peninsula and backing of armed separatists in eastern Ukraine.
Tefft suggested Moscow's outrage was hypocritical, noting that Russia said the U.S. personnel cuts were aimed at bringing parity between the size of the two countries' respective diplomatic missions.
"But when we used parity to withdraw our consent for the Russian government to have a consulate in San Francisco, then everyone got all excited. And, you know, parity is parity," Tefft said.
The shuttering of the San Francisco facility leaves Russia with its primary embassy facility in Washington, and three other consulates on U.S. territory -- in New York City, Houston, and Seattle.
Aside from the embassy in Moscow, there are three other U.S. diplomatic posts in Russia: in St. Petersburg, the Ural Mountains city of Yekaterinburg, and the Pacific port of Vladivostok.
The Russian Foreign Ministry's statement in July on the U.S. diplomatic staff reductions said Moscow was "offering" Washington to make the cuts, http://www.mid.ru/ru/foreign_policy/news/-/asset_publisher/cKNonkJE02Bw/content/id/2824435 and ministry spokeswoman Maria Zakharova suggested later on Facebook that Russia had not "ordered" the move. https://www.facebook.com/maria.zakharova.167/posts/10214203798918610
Tefft said in the September 6 interview, however, that it is false to suggest that Washington "negotiated or somehow signed on to the idea of reducing our staff."
"We were told to do that. That was not something that was negotiated," he said.
Tefft is expected to leave Moscow this year to make way for John Huntsman, a former U.S. ambassador to China who was nominated for the post by U.S. President Donald Trump.
See all News Updates of the Day