Spotlight On Iran
U.S. To Mark 100th Birthday Of Slain President John Kennedy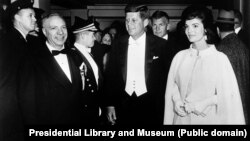 Several events will be held in Hyannis, Massachusetts, to mark the 100th anniversary of the birth of President John F. Kennedy.
Kennedy, who was assassinated in 1963, would have turned 100 on Monday, May 29.
Kennedy's 1,036 days in office saw many crises, including the failed Bay of Pigs invasion of Cuba, the Soviet Union's menace to West Berlin and, most dangerously, the Cuban missile crisis of 1962.
A Mass will be held on May 29 at St. Francis Xavier Church. A memorial service will also be held at the JFK Memorial.
Kennedy's parents, Rose and Joe Kennedy, lived in Hyannis in the massive Kennedy Compound, as did John Kennedy and brother Robert F. Kennedy, a U.S. senator, attorney general, and presidential candidate who was also assassinated.
The John F. Kennedy Hyannis Museum will feature an exhibit called JFK at 100: Life & Legacy.
Also, a new book recounts his brief but eventful presidency — and the style and wit with which he shaped the hopes of a generation — through day-by-day reports drawn from coverage at the time, right up to his assassination in November 1963.
As former AP Washington Bureau Chief Walter Mears writes in the introduction to "JFK: A Daily Chronicle of the White House Years":
"It was a time of hope, youthful leadership — JFK's new generation in power — but with clouds. U.S. involvement in the Vietnam war was beginning. Kennedy sent an increasing number of military advisers there, and they were the first Americans involved in combat. The civil rights issue was a growing problem. Kennedy sought legislation, but it would not come on his watch."
Kennedy's assassination shocked America and the world and has been the subject of countless debates, investigations and conspiracy theories.
Based on reporting by The Cape Cod Times, WBUR and AP
See all News Updates of the Day