UN Security Council Considers New Extension Of Syrian Chemical-Weapons Inquiry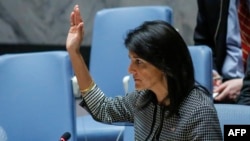 The UN Security Council is holding discussions aimed at passing a one-month extension of the mandate to allow experts to determine responsibility for chemical-weapons attacks in Syria, one day after Russia vetoed an approved U.S. proposal.
The meeting behind closed doors on November 17 is to discuss a Japanese proposal that could extend the mandate for further investigations in Syria, which expired at midnight.
Reuters reported that Russian officials told the other Security Council members that it was also opposed to the one-month extension.
Russia vetoed a U.S. proposal to renew the mandate on November 26 after it had received approval in the Security Council.
It was Moscow's 10th such veto of UN resolutions involving the Syrian civil war since the conflict began in 2011.
The U.S. ambassador to the UN, Nikki Haley, said the veto showed Russia consistently puts protection of its ally Syria, which has been blamed for all but one chemical attack since the investigation started in 2015, above the protection of Syrian civilians killed in such attacks.
"Russia has killed the investigative mechanism, which has the overwhelming support of this council," she said. Eleven of the council's 15 members supported the U.S.-drafted resolution, which would have extended the investigation for another year.
"To my Russian friends, the next chemical weapons attack is on your head," Haley said. "You are basically telling the entire world that chemical weapons are OK to use. That's what we should be embarrassed about today."
France's UN Ambassador Francois Delattre said the Russian veto was a blow to international efforts to curb the use of chemical weapons.
"Let there be no doubt: We have unleashed a monster here," said Delattre.
Russian UN Ambassador Vasily Nebenzya shot back, saying the investigative mechanism needed an overhaul, including a mandate to secure evidence of chemical use first-hand rather than through parties involved in the conflict.
Nebenzya called the mechanism "a puppetlike structure" that he said can be manipulated by the West. "On the basis of false information, it will time after time accuse the Syrian government of violating international norms," he said.
Haley also accused the Russian officials at the UN of refusing to discuss the issue with her.
"For some reason, the phones at the Russian Mission [at the UN] aren't working," she said. "We have tried to get a call with them and they've been too busy to talk to us this week. And when I have tried to call Vasily [Nebenzya], for some reason he is not available."
Russian Foreign Minister Sergei Lavrov rejected Haley's claim as "fake diplomacy."
"Mrs. Haley's claim she made [on November 16] in a rather agitated manner, that the Russian [UN] mission had allegedly for days kept rejecting her offers to meet and talk about this issue, to discuss these two drafts of the resolution (i.e. the Russian and the U.S. rival drafts), is a lie -- I'll say it again," he said. "Apparently, we are facing a new phenomenon in international relations, in which not only do we have fake news, but fake diplomacy as well."
Russia has been highly critical of the team's findings that the Syrian government used chlorine gas in at least two attacks in 2014 and 2015 and used sarin in an aerial attack on Khan Sheikhun last April that killed nearly 100 people.
Syria has repeatedly denied using chemical weapons. The investigative team also found the extremist group Islamic State was responsible for a mustard gas attack in 2015.
After Russia vetoed the U.S. extension proposal, the council later voted against a rival resolution put forward by Russia to overhaul the investigative mechanism. It received only four votes in favor -- from Russia, Kazakhstan, Bolivia, and China -- short of the nine votes needed to pass.
U.S. President Donald Trump had urged the council to support the investigation's continued work. In a tweet shortly before the vote, Trump said renewing the mandate would "ensure" that President Bashar al-Assad's Syrian "regime does not commit mass murder with chemical weapons ever again."
With reporting by AP, dpa, AFP, Reuters, and AP