Amid Travel Ban Controversy, Fewer U.S. Visas Issued To Affected Nations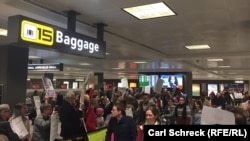 The U.S. Justice Department said it would appeal to the U.S. Supreme Court on a ruling on May 25 that upheld a block on the administration's temporary travel ban on visitors from six predominantly Muslim countries.
Attorney General Jeff Sessions said U.S. President Donald Trump was "well within his lawful authority to keep the nation safe" by ordering the travel ban weeks after taking office.
"The president is not required to admit people from countries that sponsor or shelter terrorism, until he determines that they can be properly vetted and do not pose a security risk to the United States," Sessions said.
The United States issued about 50 percent fewer visitor visas in April to citizens of seven countries covered by President Donald Trump's temporary travel bans than it did in an average month last year, according to a Reuters analysis of preliminary government data released on Thursday.
The total number of U.S. non-immigrant visas issued to people from all countries was about 15 percent lower in April compared with the 2016 monthly average.
The April data shows the continuation of a trend identified in data for the month of March, which the State Department released last month. That data showed that citizens of the seven Muslim-majority countries under the bans - Iran, Iraq, Libya, Somalia, Sudan, Syria and Yemen - received about 40 percent fewer visitor visas in March than in an average month last year.
The agency did not release data on the number of visa applications, so it is unclear whether the lower number of visas is because of a higher rate of rejections or other factors, such as fewer applicants or slower processing times.
The 4th U.S. Circuit Court of Appeals in Richmond, Virginia, earlier on May 25 had upheld a lower court's decision to prevent the travel ban from taking effect, saying it was "an executive order that...in context drips with religious intolerance, animus, and discrimination."
The measure would have set a 90-day ban on travelers from Iran, Syria, Sudan, Libya, Somalia, and Yemen from entering the United States. It also suspended the U.S. refugee program for 120 days.
In its 10-3 ruling, the appeals court said it was "unconvinced" that the intent of the measure had "more to do with national security than it does with effectuating the president's promised Muslim ban."
"Congress granted the president broad power to deny entry to aliens, but that power is not absolute. It cannot go unchecked when, as here, the president wields it through an executive edict that stands to cause irreparable harm to individuals across this nation," Chief Judge Roger L. Gregory wrote.
Sessions noted that the court's three dissenting judges agreed with the administration's arguments that the travel order was a "constitutional exercise of the president's duty to protect our communities from terrorism."
During his presidential campaign, Trump had often spoke of wanting a total ban on Muslims entering the country.
A key issue now is whether those comments from the campaign can be used to show that the ban was unconstitutionally targeting Muslims because of their religion.
The revised ban was narrowed in scope from Trump's order issued in January that blocked travelers from seven-majority Muslim countries, including Iraq, as well as all refugees. The new order also eliminated references to religion.
Critics say the changes were not sufficient to eliminate the legal problems associated with the order.
Appeals courts in other districts are still considering the case as well. Further rulings against the travel ban could indicate a tougher challenge for the administration as it takes the case to the Supreme Court.
With reporting by AP, AFP, dpa, and Reuters