Spotlight On Iran
Life After Islamic State: Pardoned Tajik Militants Navigate Road To Reintegration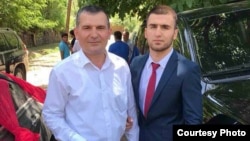 Clad in a modern two-piece suit and a tie and surrounded by close family and friends, Furqat Vatanov last month celebrated his wedding with a banquet, a ceremony the confessed former Islamic State (IS) recruit from Dushanbe says he thought would never happen.
Just over a year ago, Vatanov, 24, was arrested in Turkey as he prepared to cross the Syrian border to fight alongside the notorious militant group.
Unlike many traditional Tajik weddings involving hundreds of guests -- some invited and some not -- Vatanov's party was a relatively modest affair. Vatanov attributes it to his past "connection" to IS, saying most of his friends have cut ties with him and the rest treat him warily.
It was Vatanov's father who alerted Tajik and Turkish authorities after his son sent a message in mid-2016 asking for his "blessing to take part in the jihad in Syria."
The father, Amriddin Vatanov, rushed to Turkey, where with the help of the Tajik Embassy and Turkish police he located his Syria-bound son.
Within days, Vatanov, who says he had been brainwashed by IS "through the Internet," was taken into custody, extradited to Tajikistan, and charged with being a mercenary for a foreign militant group.
See all News Updates of the Day