Spotlight On Iran
How the Saudi King Dethroned The Crown Prince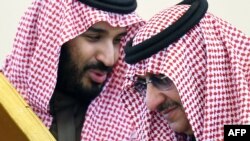 On the night of June 20, Saudi King Salman summoned Mohammad bin Nayef to a palace in Mecca, where the ruler reportedly told him that he is no longer crown prince or heir to the throne of the oil-rich kingdom.
It was revealed that the king, Salman bin Abdulaziz, will soon cede the throne to his son, the newly appointed crown prince, also named Mohammad.
According to reports, bin Nayef was at first reluctant to submit to the king's will. He was then confined to a room, deprived of his bodyguards, and pressured for hours to give up his titles, including that of crown prince.
"By dawn, he had given in, and Saudi Arabia woke to the news that it had a new crown prince: the king's 31-year-old son, Mohammed bin Salman," The New York Times reported.
The main reason behind bin Nayef's dismissal was reportedly his addiction to prescription painkillers, anonymous sources close to the House of Saud told Western media.
"Your addiction has clouded your judgement," King Salman said to bin Nayef, according to Reuters.
"The king came to meet [with bin Nayef,] and they were alone in the room. He told him, 'I want you to step down. You didn't listen to the advice to get treatment for your addiction, which dangerously affects your decisions,' " Reuters cited a source close to bin Nayef as saying.
Bin Nayef's alleged addiction has not yet been verified by independent sources.
Furthermore, bin Nayef, a Saudi prince well known for his efforts against terrorism, was stripped of his other official posts, as well.
The decision to oust him and some of his closest colleagues has spread concern among counterterrorism officials in the United States, who saw their most trusted Saudi contacts disappear and have struggled to build new relationships, The New York Times said.
The White House and CIA have not yet commented on the latest news, but a senior member of the U.S. government has told Reuters that President Donald Trump's administration was well aware of the fact that Mohammad bin Salman has for long been King Salman's favorite.
"Beyond that, everything is very ambiguous," the unnamed source said.
With Mohammad bin Salman's sudden ascent, there is now speculation among diplomats and Saudi and Arab officials that King Salman is poised to abdicate in favor of his son.
Quoting a witness at the palace, Reuters reported, that a Saudi source said King Salman has pre-recorded a statement in which he announces the transfer of the throne to his son. The announcement could come as early as September.
However, according to official statements made by Saudi authorities, replacing the country's crown prince went along the lines set by tradition and that the Allegiance Council has approved the move.
"Bin Nayef was one of the first princes to pledge allegiance with the new crown prince," said a source close to Saudi Arabia's court.
According to The New York Times, Mohammad bin Salman "already oversees a vast portfolio as defense minister. He has also become popular among some of Saudi Arabia's youth, who make up the bulk of the population, for pursuing reforms that have opened the deeply conservative country to entertainment and greater foreign investments as part of an effort to overhaul the economy, including plans to list a percentage of the state-run oil giant Saudi Aramco."
Sources close to Saudi Arabia's royal family have also denied bin Nayef is under house arrest and maintain he has freely hosted members of his family, including King Salman and the newly appointed crown prince.
See all News Updates of the Day