Spotlight On Iran
No Sex With Foreigners During World Cup, Russian Lawmaker Warns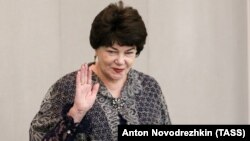 A senior Russian lawmaker overseeing family-related issues has some advice for fellow Russian women during the World Cup: Don't have sex with foreign men.
And should they really feel the need, better to find a partner of the same race.
The remarks by Tamara Pletnyova to a Moscow radio station on June 13 came a day before world soccer's centerpiece tournament was set to kick off in several Russian cities -- a month-long event that hundreds of thousands of foreign fans are expected to attend.
Pletnyova, chairwoman of the Family, Women, and Children Affairs Committee in the lower house of parliament, was quoted by Govorit Moskva radio as warning of a possible rise in the number of single mothers.
"These children suffer and have suffered, even since Soviet times," she said in comments published by Govorit Moskva. Audio of the interview could not immediately be located on the radio station's website.
She also suggested that should a Russian woman get pregnant, it would be better if the father of the child was "of the same race."
See all News Updates of the Day