U.S. Imposes New Sanctions Over Ukraine Conflict As U.S., Russian Envoys Set To Meet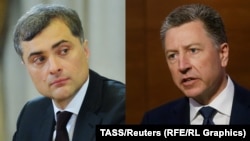 WASHINGTON -- The United States hit 21 people and nine companies linked to the Russia-backed conflict in eastern Ukraine with new economic sanctions, the latest effort by Washington to put pressure on groups most actively involved in the nearly 4-year-old conflict.
The measures announced on January 26 by the Treasury Department came on the same day U.S. Secretary of State Rex Tillerson met with Ukrainian President Petro Poroshenko in Davos, Switzerland.
Following his meeting with Tillerson, Poroshenko said on Twitter, "We have agreed with Secretary Tìllerson on coordination in the defense and security sector. Grateful for the full support of the United States in the UN Security Council and continuation of the policy of sanctions against the Russian Federation."
The sanctions also came as U.S. special envoy for the Ukrainian conflict, Kurt Volker, met with his Kremlin counterpart, Vladislav Surkov, in the Gulf city of Dubai to discuss ways to resolve the fighting. There was no immediate information about the outcome of the talks.
Since Russia's 2014 annexation of Ukraine's Crimea peninsula and the outbreak of fighting in eastern Ukraine, the United States and the European Union have hit a number of Russian people and companies, as well as separatist leaders in the region, with asset freezes, travel bans, and related financial restrictions.
Several Russian Officials Targeted
In this latest round, the Treasury Department targeted 11 people identified as top separatist officials in eastern Ukraine.
"This action underscores the U.S. government's opposition to Russia's occupation of Crimea and firm refusal to recognize its attempted annexation of the peninsula," the department said in a statement.
The sanctions also target several Russian officials, including deputy energy minister Andrei Cherezov, who had been hit earlier by European Union measures for his role in a scheme to ship power turbines to Crimea.
Those turbines were built by German engineering giant Siemens for Russia but instead ended up in Crimea. Siemens itself has not been targeted by the United States, and the company has said it was suing a Russian state-owned energy company.
Multiple subsidiaries of the Russian oil producer Surgutneftegaz were also listed, the Treasury Department said. So were subsidiaries of Power Machines, a major manufacturer of heavy industrial equipment and machinery.
'Economic War'
In Moscow, Russian lawmakers responded defiantly. Leonid Slutsky, chairman of the foreign affairs committee for the lower house of parliament, was quoted by RIA Novosti as saying that Moscow would retaliate.
"This is a policy of maximum containment of a growing Russia. The Americans have declared a trade war against us," another member of the lower chamber, Vladimir Dzhabaraov, was quoted as saying.
The announcement came just days before the release of another set of economic restrictions that is expected to target Kremlin insiders and a wider array of Russia companies. Those sanctions were mandated under a law passed last year by Congress that sought to punish Russia for its alleged meddling in the 2016 U.S. presidential election and other matters.
Anticipation over the wider Russian sanctions has been building for weeks now, with influential businessmen and Kremlin-connected insiders worried about being included in what is being known in Washington as the "oligarchs list."
Earlier this week, the head of VTB, the state-owned bank that is also Russia's second largest, Andrei Kostin, said any new sanctions that targeted Russian lenders would be tantamount to economic war.