Spotlight On Iran
NATO Expert Says Morgan Freeman May Be Russian Troll Target After Calling Out Putin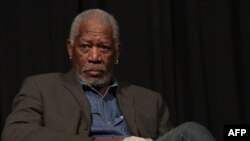 A top NATO expert on Russian Internet propaganda and disinformation campaigns says U.S. actor Morgan Freeman appears to have been targeted by "coordinated, pro-Kremlin social-media attacks" after charging that Russia "attacked" the United States last year and criticizing Russian President Vladimir Putin in an online video.
Rols Fredheim, a data analyst at NATO's Strategic Communications Center of Excellence in Riga, says the online attacks against Freeman follow a "classic pattern" seen in previous, anti-NATO, social-media campaigns out of Russia that were aimed at manipulating Western public opinion and influencing public debate.
Fredheim told RFE/RL on September 21 that he could not say whether the avalanche of recent English-language attacks against Freeman on Twitter, YouTube, and other social media were directly coordinated by the Kremlin.
But he said the timing and similarity of many of the initial attacks suggest an army of pro-Kremlin, online trolls may have taken a cue from the criticism of Freeman by Kremlin spokesman Dmitry Peskov on September 20, one day after the Freeman video's release.
See all News Updates of the Day