Spotlight On Iran
Cold War Archive: U.S. Diplomats In Moscow Have Endured Without Support Staff Before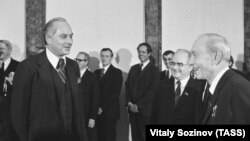 On the morning of October 24, 1986, U.S. Ambassador to the Soviet Union Arthur Hartman drove himself to work.
Later that day, the ambassador's wife, Donna Hartman, personally served popcorn from a silver bowl to a group of Soviet generals at a Moscow reception, according to a Washington Post report. Behind the scenes, U.S. Marines washed the dishes.
The implementation of Russian President Vladimir Putin's July 30 order that the United States reduce the staff at its diplomatic missions by 755 employees will not be the first time U.S. diplomats in Russia have faced the prospect of enduring without the support of secretaries, drivers, cooks, and other staff.
Late on October 23, 1986, Soviet authorities barred the United States from employing Soviet nationals at its diplomatic missions, effective immediately. Some 260 local staff lost their jobs in the move, which was the culmination of a series of tit-for-tat measures through the year that marked a tense moment in superpower relations. Local hires did not return to U.S. diplomatic missions in the country until after the fall of the Soviet Union.
On October 31, The New York Times reported that Raymond Benson, counselor for press and cultural affairs at the Moscow embassy, spent the day washing cars. Assistant naval attache Gary Barnes was unloading supplies at the embassy commissary.
Mission employees all spent one day every two weeks doing support-staff work until the State Department was able to hire and bring in new workers from the United States.
See all News Updates of the Day