Spotlight On Iran
Slogans Of Gender Equality Ring Out At Rouhani Rally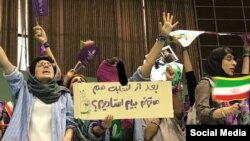 The 12,000 capacity Azadi stadium was the venue for one of president Hassan Rouhani's campaign events. Women, who are banned from entering stadiums during sports events, were allowed to enter. But they were determined to speak their minds.
From the very beginning of the event, people were shouting slogans in support of the 2009 presidential candidates, Mir Hossein Moussavi and Mehdi Karroubi who were detained eight years ago and are still under house arrest.
In the 2009 election, one hour after polls closed, the incumbent, Mahmoud Ahmadinejad was unexpectedly declared the winner. Thousands of people poured into the streets to protest what they believed was a willful disregard of their votes.
Huge protests took place in the following days, which met with a harsh crackdown by various security forces. Dozens of protestors were killed and hundreds injured and arrested. Some also died in detention.
Later that year, the two candidates who had opposed Ahmadinejad and had become symbols of resistance by disgruntled voters, were put under house arrest.
These protests became known as the Green Movement, for the color protestors chose to wear and carry as their symbol.
Many Green Movement supporters and families of political prisoners joined Rouhani's supporters in the stadium. Although Rouhani has failed to deliver on his first presidential campaign promises, four years ago, to free the two politicians, many Green Movement supporters are still active in the elections and hope that if Rouhani wins this time, he will deliver more of what he has been promising. Others are not so sure.
Many voters argue that it makes little difference who gets elected, as the Islamic Republic cannot reform itself, with important institutions falling beyond presidential authority.
During the event, as one of the speakers called for equality between men and women, the crowd chanted slogans to that effect. One of these slogans were pegged to the fact that Mir Hossein Moussavi's wife, Zahra Rahnavard is also under house arrest with her husband.
The crowd chanted: " Moussavi, Rahnavard – Equality of woman and man".
See all News Updates of the Day