Spotlight On Iran
Caspian Summit Delivers Less Than Expected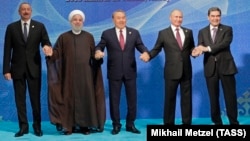 The leaders of Azerbaijan, Iran, Kazakhstan, Russia, and Turkmenistan met in Aqtau, Kazakhstan, on August 12 for what was supposed to be the long-awaited signing of a convention on the legal status of the Caspian Sea.
The leaders met, and signed the convention, but after more than 20 years it was clear that some of the same issues that have prevented an agreement that suited all five countries remained.
While the five presidents agreed on most of the issues, Iranian President Hassan Rohani mentioned that the delimitation of the sea remains an issue for Iran. Rohani said further talks would be needed to resolve the division of the Caspian, though it was unclear if he was speaking about the 22-kilometer stretch from each country's shore that is considered the territorial waters of each state, or the lines drawn to the maritime midway point where states meet.
Rohani also indicated further talks would be needed to clarify obligations to the responsibilities of the littoral states for guaranteeing the environmental safety of the Caspian.
See all News Updates of the Day