Spotlight On Iran
Putin Praises Trump, Assails Sanctions, Vows To Defend 'Great Power' Russia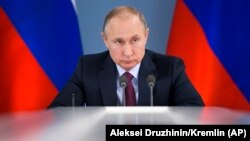 Russian leader Vladimir Putin praised U.S. President Donald Trump as a "balanced" man he can negotiate with, but he also assailed the West for "illegitimate and unfair" Ukraine-related sanctions imposed on Moscow.
"I have no disappointment at all," Putin said about Trump during a wide-ranging interview released on social media on March 7, some two weeks before Russia's presidential election.
"Moreover, on a personal level, he made a very good impression on me," he added, saying the U.S. president easily understands the specifics of issues and is a good listener.
It was not immediately clear when Putin made the remarks. The interview was part of a documentary titled World Order 2018.
Putin, 65, has been president or prime minister since 1999. His popularity, his control over the levers of power, and what critics say have been years of steps to suppress dissent and marginalize opponents virtually ensure his victory in the presidential election set for March 18.
Still, analysts believe the Kremlin fears that low turnout will undermine the appearance of the election's legitimacy, and the government appears to be taking numerous measures to boost participation.
Despite his praise for Trump, Putin lamented the state of the U.S. political system, saying that "it has demonstrated its inefficiency and has been eating itself up."
"It's quite difficult to interact with such a system, because it's unpredictable," Putin said.
During his 2016 presidential campaign, Trump said he would press for better ties with Russia as a way to solve many of the world's deep-standing conflicts.
He has also downplayed conclusions by U.S. intelligence services that Moscow interfered in the U.S. presidential election in 2016 and warnings that it will likely continue to do so. Russia denies the allegations.
Putin blamed the West for raising tensions, citing what he called efforts to contain and weaken Russia.
"We are a great power, and no one likes competition," he said.
He also blamed the United States for what he alleged was its role ousting Ukraine's Russia-friendly president in February 2014 amid massive street protests.
Putin claimed the United States had asked Moscow to prevent then-President Viktor Yanukovych from using force against protesters, then "rudely and blatantly" sponsored what he labeled a "coup."
After a pro-West government was installed in Kyiv, Moscow responded by seizing control of Ukraine's Crimean Peninsula in March 2014 and fomenting separatism across much of the country -- one of the causes of a war that has killed more than 10,300 people in eastern Ukraine since April 2014 and displaced more than 1.6 million Ukrainians.
"Few expected us to act so quickly and so resolutely, not to say daringly," Putin said.
He said Western sanctions for the annexation and for Moscow's support of separatists in eastern Ukraine were "illegitimate and unfair" and said that "we will win in the long run."
"Those who serve us with poison will eventually swallow it and poison themselves," he added.
The remarks weren't in the context of former Russian spy Sergei Skripal, who remains in critical condition, along with his daughter, after being found unconscious in Britain.
British police on March 7 said the two were deliberately targeted by a "nerve agent" and that the case was being treated as attempted murder.
On March 6, Foreign Secretary Boris Johnson warned that any involvement of a foreign government in the incident would not go "unpunished."
Speaking to parliament, Johnson said Britain might step up sanctions against Russia if it finds that Moscow was involved in the incident.
Moscow accused British politicians and journalists of using the case to drive "anti-Russian" sentiment and disrupt relations between London and Moscow.
In the interview released on March 7, Putin also appeared to follow up remarks made in his annual address on March 1, when he boasted of a new generation of "invincible" nuclear-capable Russian weapons.
The remarks came under criticism from NATO as well as the United States, Germany, France, and other Western countries.
"The decision to use nuclear weapons can only be made if our early warning system not only detects a missile launch but clearly forecasts its flight path and the time when warheads reach the Russian territory," Putin said in the interview.
"If someone makes a decision to destroy Russia, then we have a legitimate right to respond."
"Yes, it will mean a global catastrophe for mankind, for the entire world. But as a citizen of Russia and the head of the Russian state, I would ask: What is such a world for, if there were no Russia?"
With reporting by AP, Reuters, TASS, and Interfax
See all News Updates of the Day