Spotlight On Iran
Pakistani-Afghan Antiterror Cooperation Unlikely To Take Off, Former U.S. Envoy Says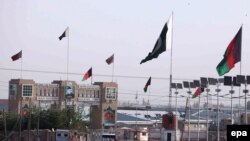 A former U.S. ambassador to Afghanistan says the proposed antiterrorism cooperation between Islamabad and Kabul is unlikely to succeed.
Zalmay Khalilzad served as former U.S. President George W. Bush's special envoy and ambassador to Afghanistan after the demise of the Taliban regime in late 2001. He played a key role in shaping the post-Taliban order in the country and frequently questioned Islamabad's commitment to stability in Afghanistan, where he was born.
Now a prominent Republican foreign policy guru, Khalilzad told Radio Free Afghanistan that such operations are unlikely to resolve the longstanding issue of Islamabad's support for the Afghan insurgents.
"I was not optimistic from the beginning that this is what is required. Pakistan needs to act against the Haqqani network and other extremist Taliban on its territory," he said of the Taliban's deadly military wing, which Afghan and U.S. officials frequently blame for high-profile attacks in the Afghan capital, Kabul.
"If Pakistan really needed to rid itself of these networks, it doesn't need to launch operations near the Durand Line [border with Afghanistan]. It could have done much easier operations in its cities [to nab Taliban leaders]," Khalilzad said.
The proposed cooperation, encouraged by the United States and China, would see the Pakistani and Afghan militaries closely coordinate their operations against insurgents along their shared border. Such efforts have largely failed in the past, prompting Islamabad and Kabul to blame each other for supporting hostile militant factions operating out of their territory.
Khalilzad is not optimistic about a change in Islamabad's outlook since the time when a safe haven on its soil and covert support reportedly enabled the Taliban to recuperate and launch an insurgency several years after their regime's demise.
"For years, Pakistan has faced this question. While it claimed that no terrorists were present on its soil, in reality it was the epicenter of terrorist groups such as the Haqqani network and the Taliban," he said. "Both groups depend on Pakistani help and aid."
Khalilzad says Islamabad's future approach hinges on U.S. President Donald Trump's new strategy for the 16-year-old war in Afghanistan.
"If Pakistan senses that carrying on its current strategy will not cost it too much, I don't think it will change its course," he said.
Khalilzad is optimistic about the Trump administration's long-awaited Afghanistan strategy.
He noted that the administration has already authorized Defense Secretary General James Mattis to send a few thousand additional troops to Afghanistan, hasten the strengthening of the country's fledgling air force, and prop up the Afghan special forces that have proved effective against the insurgents.
"I am optimistic that the debate here is comprehensive and wide-ranging, encompassing all aspects," he said.
Abubakar Siddique wrote this based on Radio Free Afghanistan correspondent Zarif Nazar's reporting.
See all News Updates of the Day