MAZAR-E SHARIF, Afghanistan -- Gunfire has broken out in the northern Afghan city of Mazar-e Sharif between police loyal to a powerful former provincial governor and Interior Ministry forces sent to support a new police chief who was appointed by President Ashraf Ghani.
The March 14 gunbattle was sparked by the dispute between Ghani and Balkh Province's former governor, Atta Mohammad Noor, an ethnic Tajik former warlord whose militia fighters now form most of the provincial police force.
Hospital officials in Mazar-e Sharif told RFE/RL that at least 13 people were hospitalized with gunshot wounds sustained during the March 14 fighting -- including eight police officers and five civilians.
They did not specify whether the wounded police were from the Interior Ministry or provincial police who remain loyal to Noor.
RFE/RL's correspondent in Mazar-e Sharif reports that fighting erupted on March 14 as Interior Ministry police were escorting the newly appointed police chief, Abdul Raqib Mobarez, to provincial police headquarters.
Mobarez, appointed under a presidential decree, arrived at Mazar-e Sharif's airport earlier on March 14 but was briefly blocked by Noor loyalists when he tried to reach police headquarters to officially take up the post.
However, with backing from Interior Ministry police, Mobarez eventually managed to enter the headquarters building in the provincial capital.
Mobaraz announced after arriving at the building that he had officially taken on the post of police commander.
Mobaraz also said Interior Ministry police had control over security in Mazar-e Sharif and will "take action against anyone who takes up arms" against them.
RFE/RL's correspondent reports that sporadic gunfire was continuing across the city after Mobaraz's announcement.
Interior Ministry spokesman Nusrat Rahimi told RFE/RL that at least "25 irresponsible armed men" had been arrested by Interior Ministry police in Mazar-e Sharif before sundown.
Noor wants to name his choice to head Balkh's provincial police force and insists that the Afghan president promised he would be allowed to do so.
Mohammad Hanif Atmar, one of the leading candidates in the country's July 20 presidential election, criticized the deployment of Interior Ministry police in Mazar-e Sharif as "an illegal step," saying forces from outside of Balkh Province should not have been sent there by the central government.
Atmar also charged that the March 14 Interior Ministry operation was part of an attempt by Ghani to remove Atmar's supporters from positions of power ahead of the vote.
Noor has backed Atmar's presidential election campaign.
The U.S. ambassador to Afghanistan, John Bass, issued a Twitter statement calling on both Noor and Ghani to instruct the security forces and police under their command "to stand down, and for political leaders on both sides of the dispute to put the Afghan people first."

Bass said: "Afghan security forces are tasked with protecting the Afghan people, not fighting each other over political disputes."

He also said "the parties involved" should "quickly and peacefully resolve this dispute in a way that gives Afghan citizens confidence in their leadership and strengthens security."

"Asserting authority by forces of arms takes Afghanistan's democracy backwards," Bass tweeted.
Earlier on March 14, many residents of Mazar-e Sharif heeded Noor's call to go on a day-long strike to protest Mobarez's appointment.
Noor called on city residents to keep shops and markets closed, demanding that Ghani withdraw his decree that appointed Mobarez.
But Deputy Interior Minister Khoshal Sadat tweeted that Ghani appointed Mobarez as the new police chief due to "the worsening security situation of Balkh province."
Mobarez "will be accompanied by Special Forces units. The situation is controlled & nothing to be worried about. Additional forces will also soon reach Balkh," he wrote in a separate tweet, adding that Ghani's decree "will be implemented without any delay or hesitation."
Noor, who for months had rejected Ghani's efforts to remove him from office, in March 2018 agreed to resign as governor of Balkh after 14 years in the post.
Noor is a leading figure in Jamiat-e Islami, a party that is dominated by officials and former militia commanders from the Tajik minority.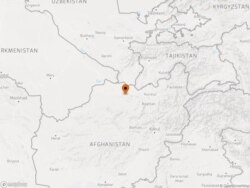 With reporting by AP