Spotlight On Iran
Mullahs' Messengers Say Iran's Oscar Choice Long On Art, Short On Politics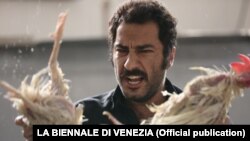 Iran's clapperboard crowd has spent the past two decades amassing international audiences and acclaim, as evidenced by prestigious filmmaking awards from Cannes to California.
Directors like Jafar Panahi, Samira Makhmalbaf, and Asghar Farhadi have elevated an already proud cinematic culture and exposed millions of filmgoers around the world to the creativity and filmmaking prowess behind one of Iran's best-known exports.
But despite unprecedented recent success at the Oscars and nominations at some of the world's most discerning film festivals, the industry's arbiters of success are under fire from conservatives for not injecting enough politics into the process.
State media and a hard-line daily with ties to the Islamic Revolutionary Guards Corps (IRGC) have suggested that the Farabi Cinema Foundation's selection of Vahid Jalilvand's award-winning drama No Date, No Signature to compete in the best foreign-language film category at the 2019 Academy Awards was a mistake, because its bleak portrayal of Iranian life risks playing into the hands of the clerically dominated leadership's biggest critics.
See all News Updates of the Day