Spotlight On Iran
The Metals Magnate And Manafort: A Kremlin Confidant Is Drawn Into The Trump Investigation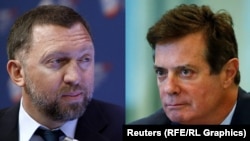 WASHINGTON -- Paul Manafort was looking for an investor, and Oleg Deripaska was his man.
It was 2008, and a famed Manhattan building known as the Drake Hotel was being eyed by the American lobbyist and political adviser Manafort for purchase and development. On June 30, Manafort met with Deripaska, a Russian who had earned his fortune and reputation as a hard-knuckled, take-no-prisoners businessman in the 1990s consolidating control over Russia's metals industry.
According to a memo generated by Manafort's then-partner Rick Gates to two Deripaska associates, the Russian billionaire was definitely interested in investing, telling Manafort "to lock the other financing elements and then come back to him for the final piece of investment."
"Based on the interest in this opportunity expressed by Mr. D during his meeting with Paul, we would like to discuss the parameters of this deal with you further and as soon as possible," said the memo, which was submitted as evidence in a lawsuit filed in U.S. federal court on an unrelated dispute.
The Drake deal, which ultimately fell through, is one of many illustrating Manafort's dealings with Deripaska, whom U.S. officials consider to be a close associate of Russian President Vladimir Putin.
Those and other dealings are now under the glaring scrutiny of Robert Mueller, the U.S. special counsel investigating alleged Russian efforts to influence the 2016 presidential election and contacts between Russian officials and associates of U.S. President Donald Trump. Three different congressional committees are also investigating.
See all News Updates of the Day