Spotlight On Iran
Karl Marx At 200: Controversy Over Revolutionary Philosopher Never Grows Old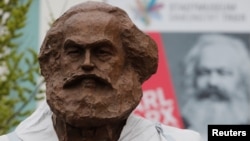 The bicentennial of Karl Marx's birth is being marked in his German hometown amid similar controversy to that evoked by the revolutionary philosopher when he was alive.
Viewed in the West as a deluded utopian and blamed for communism's failures, Marx is being feted in China as the world's "greatest thinker" whose writings underpin that country's political and societal structures.
The May 5 celebrations marking 200 years since Marx's birth in the western German city of Trier will include the unveiling of a Chinese-funded 5.5-meter statue of the author of The Communist Manifesto (co-written with Friedrich Engels) and Das Kapital.
The Trier city council voted last year to accept the statue by Chinese artist Wu Weishan but added a resolution to their approval that cited the importance of observing human rights.
A boost in the steady stream of some 150,000 Chinese tourists who make the pilgrimage to Trier every year to see the birthplace of communism's founder was cited by Mayor Wolfram Leibe as a factor in deciding to erect the larger-than-life bronze statue.
About the controversy to honor a person many see as responsible for a political ideology that bitterly divided Germany for 40 years, Leibe said that "the monument should inspire people to think about Marx and his literary works."
"It's hard for many victims of the communist system to accept that a west German city is putting up a monument like this," Hubertus Knabe, the head of a memorial at a former prison for political prisoners in Berlin, told the Los Angeles Times.
See all News Updates of the Day