Spotlight On Iran
Iranian Lawmakers Aim To Scrap Discriminatory Citizenship Law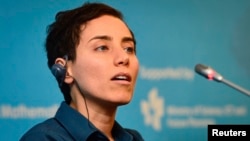 A group of Iranian lawmakers are looking to scrap a longstanding law that denies citizenship and equal rights to Iranian children born to foreign fathers.
If approved by parliament, a recently drafted bill would overturn the discriminatory legislation and affect the lives of thousands of children abroad and inside Iran -- especially Iranian children with fathers from the large community of Afghan refugees and migrants living in the Islamic republic.
Iranian rights activists have been campaigning for years to abolish the law, under which only Iranian men can pass their nationality to spouses or children.
For years, the citizenship of children born in marriages between Iranian women and Afghan refugees has been the driving force behind changing the law. To this point, such children are essentially stateless.
In recent days, the campaign to abolish the law was given an unexpected boost following the death of Maryam Mirzakhani, an award-winning Tehran-born mathematician who died of cancer in the United States on July 15. Mirzakhani's only daughter, 6-year-old Anahita, has a Czech father and is thus ineligible for Iranian citizenship.
See all News Updates of the Day