Spotlight On Iran
Expelled Iranian Chess Player Switches To U.S. Team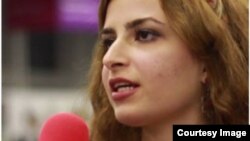 An Iranian chess player, Dorsa Derakhshani, who was expelled from the national team for attending an international competition without wearing hijab, has switched sides and joined the U.S. team.
"Based on the [International Chess Federation, FIDE] statute, chess players who switch their nationality can after two years join the national team of their new country. Dorsa has also benefited from the same statute," Mehr News Agency (MNA) cited Iranian Chess Federation (IRCF) President Mehrdad Pahlevanzadeh as saying.
Iran Students News Agency (ISNA) also reported on the 19-year-old chess player's decision on October 2, presenting Derakhshani as a chess woman grandmaster and international master.
ISNA says that over the past two years Dorsa participated in several international chess competitions without wearing hijab.
She was expelled from Iran's national team for participating in the Tradewise Gibraltar Chess tournament in February without wearing hijab.
Immediately after the tournament, the IRCF's president announced, "In regards to the events in Gibraltar, Dorsa and her chess player brother, Borna, are going to be seriously confronted."
Derakhshani's 15-year-old brother had played against Israeli grandmaster Alexander Huzman in Gibraltar despite an unwritten law in Iran that prohibits its athletes from competing against Israeli opponents.
In January 2016, Iranian competitor Ehsan Ghaem-Maghami withdrew from a tournament in Switzerland when he learned he would be facing an Israeli in the fifth round.
However, Pahlevanzadeh now insists, "Dorsa was not a member of Iran's national chess team. She played for Iran only one time in 2014."
Derakhshani is the second Iranian female chess player after Sara Khadim osh-Shari'a to achieve the prestigious titles of woman grandmaster at 18 and international grandmaster at the 87th Hastings International Chess Congress.
At 15, Derakhshani won the Asian Chess Championship in 2012 and came sixth in the World Youth Chess Championship in 2015.
In 2015, she accepted an offer by a Spanish club and moved to Barcelona to continue her studies at a university, as well.
Her registration has now been altered on FIDE's website, and Pahlevanzadeh confirmed her switch to the U.S. Chess Federation.
Derkhshani will join Nazi Paikidze on Team USA. The 23-year-old Russian-born Paikidze, who won the U.S. women's championship in 2016, refused to compete in February's Women's World Chess Championship in Iran, protesting the country's hijab law.
"I think it's unacceptable to host a Women's World Championship in a place where women do not have basic fundamental rights and are treated as second-class citizens," she wrote in an Instagram post in September 2016. "For those saying that I don't know anything about Iran: I have received the most support and gratitude from the people of Iran, who are facing this situation every day."
See all News Updates of the Day