Spotlight On Iran
Iranian TV Personality Who Promoted Compulsory Islamic Dress Under Fire Over Photos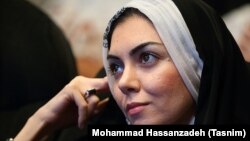 A well-known Iranian television personality has been accused of hypocrisy after images of her in which she is not adhering to the country's Islamic dress code surfaced online.
Presenter turned actress Azadeh Namdari has for years promoted compliance with the hijab, which in Iran refers to Islamic dress that covers the hair and body.
In particular she has touted the wearing of the black chador, a garment that covers women from head to toe, leaving the face exposed.
In a 2014 interview, she said she was proud to be a chadori, an expression used in Iran to refer to women who choose to wear the chador, which has been praised by conservatives as offering women the best protection.
Women's dress has been heavily scrutinized in the Islamic republic since the 1979 revolution, when adherence to an Islamic dress code became compulsory.
The dress code dictates that women's hair and body must be covered in public. According to the Islamic rules, women are not required to wear the hijab when at home and among close relatives.
Morality police launch regular crackdowns on those who are not fully respecting rules relating to the hijab.
"You have to believe to be a chadori. [Otherwise] you'll be exposed," she said in the interview with the hard-line Vatan-e Emruz daily.
"Thank God that I went on air, I was a chadori. I felt safe and I felt respected. All of these are blessings that the chador has brought me," Namdari said in the interview.
"I apologize for saying that, but I'm more beautiful with this chador," she added in the front-page interview.
On Instagram she often posted pictures of herself wearing a black chador. During a recent trip to Geneva she posted a photo of herself wearing her black chador outside the United Nations Office.
See all News Updates of the Day