Spotlight On Iran
Chinese Trucks Are Iran's Nightmare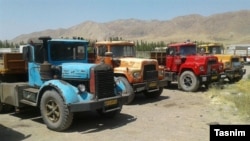 Statistics concerning the number of dilapidated trucks still on Iranian roads vary between 127,000 and 202,000. The country is suffering the consequences of too many older trucks in recent decades as they highly pollute the air and debilitate road transportation.
State-run Iran Students News Agency (ISNA) cited the CEO of the Industrial Development and Renovation Organization of Iran (IDRO), Mansour Mo'azzami, as saying, "202,000 heavy-duty vehicles will be overhauled or replaced across Iran within three years, which needs $10 billion investment."
As Tehran faces challenges in raising sufficient funding to renovate its aircraft and even buy Airbuses, the comments made by IDRO's CEO sound highly ambitious.
Iran's Roads and Urban Development Ministry recently announced that 127,000 trucks older than 25 years are still on the roads.
Roads and Urban Development Minister Abbas Akhoundi maintained that replacing all the trucks would benefit the environment and cut fuel expenses in half. The savings, he said, would pay for the cost of renewing older vehicles.
In 2005, nearly 30,000 trucks were manufactured in Iran, mostly by international companies such as Mercedes Benz, Renault, and Volvo. Eight years later, in 2013, that figure dropped to nearly 14,000, primarily vehicles manufactured by Chinese companies.
If Tehran is resolved to replace 202,000 of its older trucks with new, locally manufactured vehicles within three years, it should aim to annually produce 60,000 to 70,000 trucks. Iran's capacity for manufacturing trucks, however, is currently less than 30,000 per year.
The most important issue is where these new and standardized trucks will come from. While China seems the most likely option, there have been issues of poor quality in Chinese vehicles sent to Iran, with a considerable record of fatal crashes in recent years.
During the eight years of Mahmoud Ahmadinejad's presidency, while Iran was under international sanctions, Western companies reduced their activities in Iran and were replaced by Chinese manufacturers with a low-quality output.
"The Chinese made their forays after the Europeans pulled out of Iran in the wake of intensified sanctions in 2011. They began with supplying semi-heavy and heavy trucks and passenger vehicles," Tehran's English speaking TV channel, Press TV reported in March 2015.
China's Howo trucks in Iran have earned a gruesome reputation for their accident record, and the mere sight of them on the road is enough to send shudders down the spine of travelers, Press TV noted.
See all News Updates of the Day