Spotlight On Iran
Thai Male Coach Wears Hijab In Iran Women's Match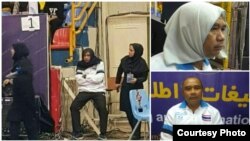 The Asian Kabaddi Championship in Iran has made headlines for some amusing photos.
They show the male coach of the Thai female kabaddi team wearing hijab in order to be able to accompany his team into the women's arena. In Iran, men are not allowed to enter sport arenas used by women.
In a statement, Iran's Kabaddi Federation apologized for the "sad incident" and condemned the action of the Thai coach. The federation had informed the participants about the rules regarding hijab and ban for men in advance.
In its statement, the federation admitted some "negligence" during ID control, but it added that the Thai coach had allegedly "deceived" the controllers. The federation vowed to follow-up the "violation" by the Thai coach through the World Kabaddi Federation, even though it said that the coach was sent off "after few seconds".
While the Iranian federation claims that the Thai coach sneaked into the stadium wearing the hijab, the coach says that actually he was told to wear it if he wanted to get entry.
Somprach Phonchoo, the Thai coach, in an interview with Radio Farda confirmed that he was requested to put on the headscarf but does not say by who.
However, Mohammad Reza Maghasoudlou, the head of Iran's Kabaddi federation came up with a funny plot. He told ISNA News Agency, "A photographer has given the scarf to the Thai man so he could enter the arena and take pictures."
"It was a naughty act and the goal was to question the games," Maghasoudlou added.
The Asian Kabaddi Championship was held in Iranian northern city of Gorgan between Nov. 22-27. Iran women's team missed the final after a defeat at the hands of South Korea in semi-final. In the final game, India defeated Pakistan and became champion.
See all News Updates of the Day