Spotlight On Iran
Cairo Pays Homage To Iran's Last Shah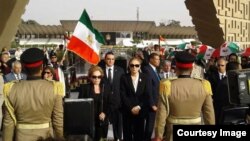 Annual ceremonies to pay homage to Iran's last king, Shah Mohammad Reza Pahlavi, were once again held in Cairo on July 27.
The former empress of Iran, Farah Pahlavi, and Egyptian former First Lady Jehan Sadat attended the ceremonies alongside the late shah's supporters.
Hundreds of Iranians from all over the world, including the United States, Europe, and Australia, were in Cairo to pay tribute to the shah, who died on July 27, 1980.
Mohammad Reza Shah left Iran while the Islamic Revolution, led by elderly exiled Ayatollah Ruhollah Khomeini, was gaining momentum and the country was practically in chaos.
A year and a half later, the shah, aged 60, died from complications of leukemia at a Cairo hospital.
The late shah was laid to rest at Cairo's Al Rifa'i Mosque, where the last king of Egypt, Farouk, and other prominent figures of modern Egypt are buried.
Close friend and ally, Egyptian President Anwar Sadat held a full state funeral for him, attended by members of the shah's family, as well as former U.S. President Richard Nixon.
As in previous years, Pahlavi and Jehan Sadat commenced the ceremonies by visiting Anwar Sadat's place of burial and the tomb of Egypt's Unknown Soldier.
At a time when many Western countries were reluctant to let the Iranian king enter their territories, Anwar Sadat warmly welcomed his frail and devastated "brother" as a guest of state.
However, 15 months after the shah's death, Anwar Sadat was assassinated by an Egyptian fundamentalist army officer, Khalid Islambouli, during the annual victory parade held in Cairo to celebrate Egypt's crossing of the Suez Canal. Islambouli was enraged that Sadat had signed a peace treaty with Israel.
As has become a tradition in the past few decades, Pahlavi and Jehan Sadat attended Al Rifa'i Mosque, where they were welcomed by Iranian expats and Egyptians who admire Sadat and the Iranian shah.
"Egyptian clergy, Egypt's Islamic Endowment Organization officials, and sheiks of the Mosque were also there to attend the shah's death anniversary ceremony, which had a religious theme," an attendant of the ceremony told Radio Farda.
Pahlavi read a message and highlighted "the shah's service" for his "beloved country," adding he "always wished for welfare and progress for Iran and its people."
Earlier, in a statement, she had also insisted, "The shah longed to create a system based on democratic values and a humane society combined with respect for individual freedom, decentralized government, people's deliberate participation in national ventures, and a free market in Iran."
The shah's critics have always accused him of suppressing political dissidents and violating human rights.
However, pro-shah forces dismiss these accusations as mostly exaggerations.
Wrapping up the ceremony at Al Rifa'i Mosque, Pahlavi went to Cairo's Four Seasons Hotel to pose for photos with supporters.
The shah's memorial ceremonies this year coincided with the fourth anniversary of the downfall of Egypt's Muslim Brotherhood rule and the rise of General Abdel Fattah As-Sissi.
"Undoubtedly, the current government in Egypt had done its utmost to hold the shah's death anniversary ceremony as disciplined and majestically as possible," said a former Iranian army officer who attended the ceremonies.
During the 30 years of Mohammad Hosni Mubarak's presidency in Egypt, the shah's death anniversary was held in similar splendor.
The ceremonies were downgraded during Morsi's presidency from 2011 to 2013 and were only attended by several of the Pahlavis and their supporters.
However, Prince Reza Pahlavi was not present at this year's ceremonies.
Tehran-Cairo diplomatic relations have always been either severed or based on distrust and hostility after February 1979 and the fall of the monarchy in Iran.
Their relations are currently at a low, limited to the operation of trade interest sections in each other's capitals.
Recently Egypt, along with Saudi Arabia, engaged in a more obvious anti-Iran gesture when it joined other Arab states in boycotting Qatar. Along with Riyadh, Manama, and Abu Dhabi, Cairo called on Doha to sever its diplomatic relations with Tehran.
See all News Updates of the Day