Spotlight On Iran
Half The Girls Living In Border Areas Drop Out Of School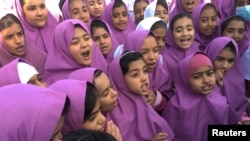 In many border provinces of Iran, 40% to 50% of the girls drop out of high schools for different reasons, including "early marriages", "lack of feminine teachers" and long distances between villages and schools", a Ministry of Education official has announced.
Speaking to Iran Labor News Agency, ILNA, Rizwan Hakeemzadeh said, "In many border provinces, only 40% to 50% of the girls complete their high school education".
Ms. Hakeemzadeh has described the statistics as "shocking".
"Living in villages far from the schools", "lack of female teachers", "early marriage", "being busy in crop seasons" as well as "cultural and religious prejudice" are among the reasons that force the girls to drop out of the high schools, Hakeemzadeh reiterated on Saturday, September 9.
Meanwhile, without mentioning enrollment figures or naming the border provinces, she affirmed that the ministry of Education is going to study the situation in deprived and impoverished areas of four provinces and identify the reasons behind the high drop-out rates.
In some earlier reports, provinces of Sistan and Baluchestan, Khuzestan, Western Azarbaijan and Hormozgan were named among the provinces where in some of the areas the girls are deprived of education.
Ms. Hakeemzadeh has also pointed to the fact that there is no law banning education for married girls, but most of them drop out on the basis of their personal or family decisions.
There are different statistics available concerning the number of students who drop out of school in Iran.
In 2010, the Parliament Research Center, in a report based on 2005 census, declared that more than three million children have dropped out of school.
In an interview with Iran Students News Agency, ISNA, on September 24, 2016, Shahindokht Molaverdi, President Rouhani's deputy, also said, "Three million two hundred thousand children are being deprived of education, among which girls are the main group."
Nevertheless, the Education Ministry officials have estimated that only 600,000 children are out of schools in the Islamic republic.
Reportedly, the number of girls dropping out of school is much higher.
However, on July 2, the head of Sistan and Baluchestan MPs' Association, Mohammad Na'eem Amini Fard said, "The real number of drop-outs in the province is nearly 120,000 and 30% of these are simply deprived of the right to education because they do not have any IDs".
Article 30 of Iran's Constitution stipulates that "The government must provide all citizens with free education up to secondary school, and must expand free higher education to the extent required by the country for attaining self-sufficiency."
A pre-Islamic Revolution Law also stipulates that all Iranian children must go to school and, in the meantime, it punishes adults with up to six months imprisonment if they bar their children from getting education.
See all News Updates of the Day